Workflow Automation Guide
Team edition users can create workflow rules to automatically trigger action items and delegate tasks to the responsible parties on their team. Compliance.ai's Workflow automatically notifies you and the responsible team member as soon as a relevant change occurs, based on the rules established in the workflow.
Compliance.ai's automatic workflow helps you assign tasks, track due dates and monitor progress relevant to specific regulatory changes.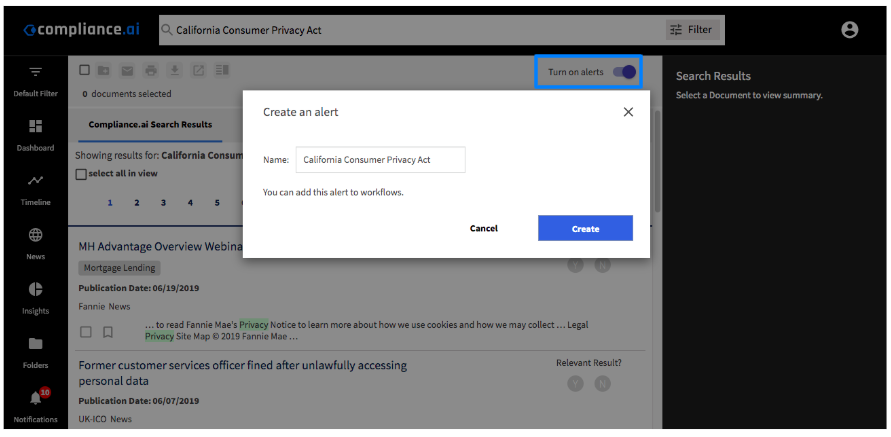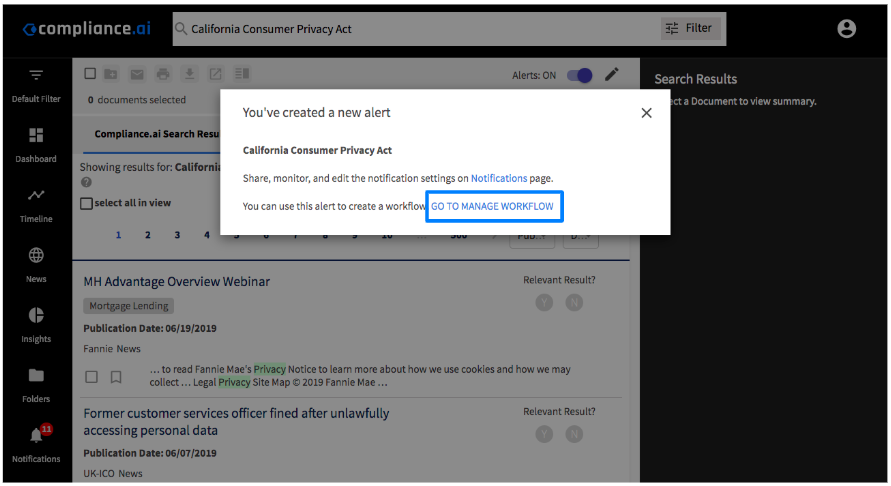 Note: After saving the alert, you will be prompted with an option to immediately "Go To Manage Workflow" to create a new flow for that alert. If you already have a set of alerts created, then you can move on to the next step.
Step 2: Select the tab for Tasks, then go to Manage Workflow
Select "Add a New Flow" then decide to either "Start with a template" or "Start from scratch." Most users choose to start from scratch.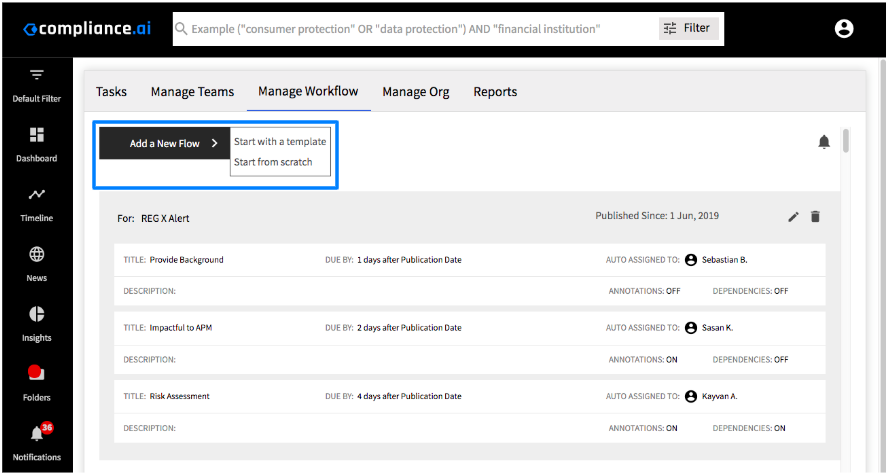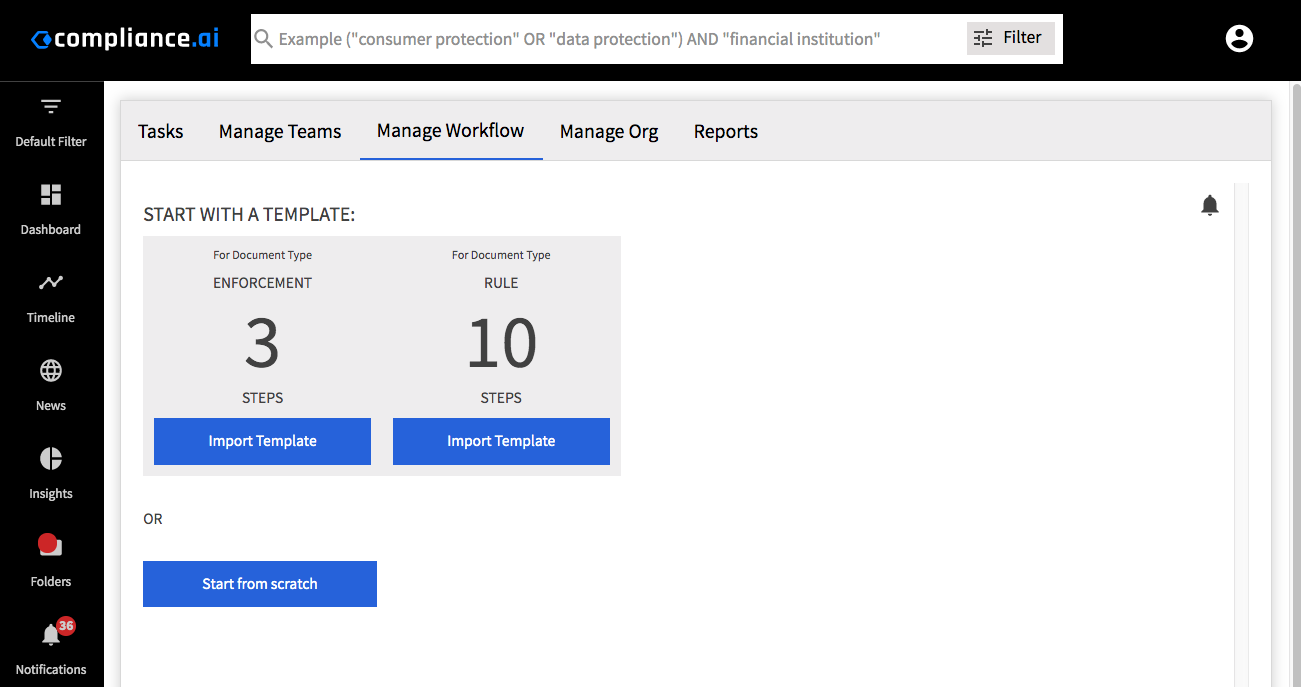 Start with a Template: This option will allow you to import an existing template that you have used in a previous workflow.

Start From Scratch: This option allows you to customize a new series of action items and team assignments.

Step 3: Select the Alert that you would like to create a repeatable process for.
This is indicating that anytime a change occurs related to that specific alert, the same series of tasks should be assigned.
Note: You can choose to backdate this workflow up to 30 days prior by selecting the "Published Since" date.

Step 4: Next, select the "add a step" button. This is where you will set up the recurring tasks.
Apply a general title like read or evaluate, then describe the specifics for the assignment in more detail within the description.
Select the due date criteria based on either the: Publication Date, Effective Date or Comment Close Date. Then assign the task to a member in your team.
You can apply additional requirements like attaching a documents, adding notes within a text field or create a standard option with a dropdown.
The dropdown selection is useful for tasks with a standard review criteria for example, "relevant" or "not relevant."

Step 5: For subsequent steps, select to add another step, then follow the same process described above.
Dependencies: You can establish a dependency for subsequent tasks as long one of the prior assignments has a dropdown criteria applied. For example, if you added a drop down criteria, requiring the team member to select whether the document was "relevant" or "not relevant," then the next step can be dependent on the prior being marked as "relevant."
Step 6: Review the workflow and save
Once you've completed adding the reoccuring steps for the specified workflow, click to save.  If there are already relevant tasks in the queue, you will see these assignments in the first tab named "Tasks." For new workflows, this can take up to 10-minutes to populate.
Note: You can sort the Tasks tab to only show your tasks or list tasks across the team.

Step 7: Built-in Reporting
Compliance.ai keeps a comprehensive record of the regulatory changes that your team was notified of and the actions taken by the team to respond. It will keep track of who was assigned the task, what the task was, and when the task was assigned and due with precise detail. You can export these reports during audits, for resource planning, and to report to executives.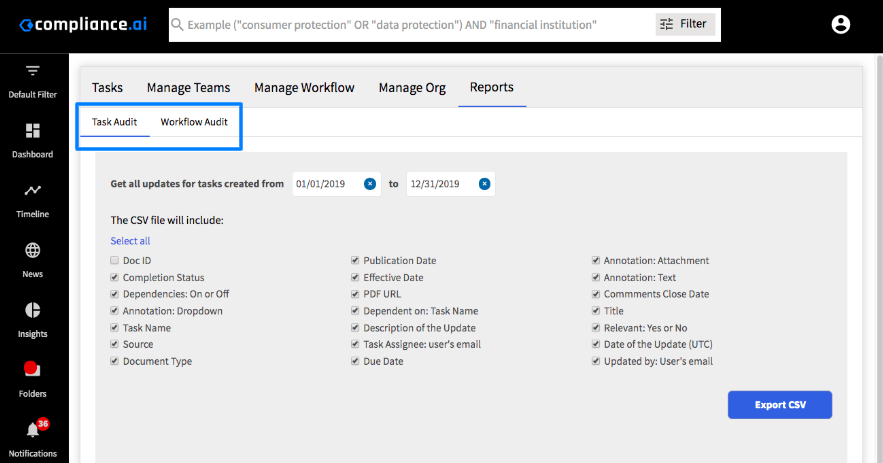 Other Product User Guides
Login to your account