Financial Regulatory Change Management,
Managing regulatory change doesn't have to be tedious & complex.
Compliance.ai significantly reduces Financial Regulatory Compliance Risk.
REGULATORY AGENCY UPDATES
See the latest regulatory changes and updates
FINANCIAL ENFORCEMENT ACTIONS
Click to see the most recent financial enforcement actions and estimate your risk
WEEKLY REGULATORY DEADLINES
The most recent financial regulatory news and upcoming deadlines at a glance
REGULATORY CHANGE COST CALCULATOR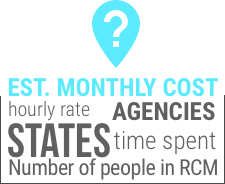 Use our tool to estimate your regulatory change cost based on: Number of Agencies, Number of States, Average Number of Review Docs, etc.
A recent Boston Consulting Group survey stated that the number of regulatory rule changes that banks must track on a daily basis has tripled since 2011, to an average of 200 revisions a day.
Download this white paper to learn more about the challenges financial organizations face in managing regulatory changes. The paper outlines the transformational role that properly implemented AI-driven solutions can play in lowering the burden of regulatory change management for financial services organizations.
American Banks have to keep track of both Federal and State-level Agency rules and updates. The task of tracking down these changes is a tedious and manual process, often taking 20-30% of time each week.
Download this case study to learn more about how Bank of Marin's compliance team uses the Compliance.ai solution to effectively manage and research regulatory changes relevant to their organization.

November 30, 2018
 "Compliance.ai, a compliance and regulatory management platform vendor, uses Tibco Mashery to help manage and compile many different APIs and data sources. Startup Compliance.ai pieces together a lot of data from disparate sources to help its clients understand complex regulatory information. To help get that data to its users, the regulatory management platform vendor has turned to Tibco Cloud Mashery…

November 20, 2018
It's no secret that there has been a significant rise in regulatory compliance related rules, regulations and enforcements since the 2008 financial crisis. Those new compliance burdens have had a direct and significant effect across the spectrum for financial institutions. To understand the costs of compliance, we must first consider the largest expense, which is the compliance team.