Exporting Documents
Exporting regulatory documents and organizing them into a spreadsheet is easy with Compliance.ai. Compliance.ai's exporting tool automatically populates the key attributes into columns and can be downloaded into a .csv format. This step-by-step guide will show you how to save time and tedious effort in maintaining a spreadsheet of relevant regulatory content for your team.
Exporting to .CSV
Start from either the Search Bar or Timeline tab.
From the Timeline View, filter down the content by document type, agency, jurisdiction and more. Remember that the Timeline is automatically sorted by publication date, with the most recent content at the top. If you'd like to sort by different attributes, remove the "In Timeline" box from the search bar and resubmit your search.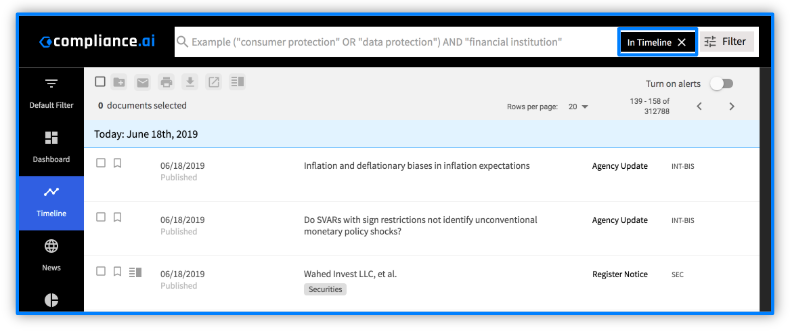 From the Search Bar, type in the keywords, phrases or concepts that you're searching for. Check your filters to make sure it applies to your search.
Please refer to our Advanced Search and Filter Guide for tips on how to optimize your search results.
Step 2:
After you've verified that the search results have the content you're looking for, select the documents that you want to export by clicking on the small checkbox to the left of each document. You can also select all the documents in the page view.
Please Note: You can export up to 600 documents, but you can only do this once a day.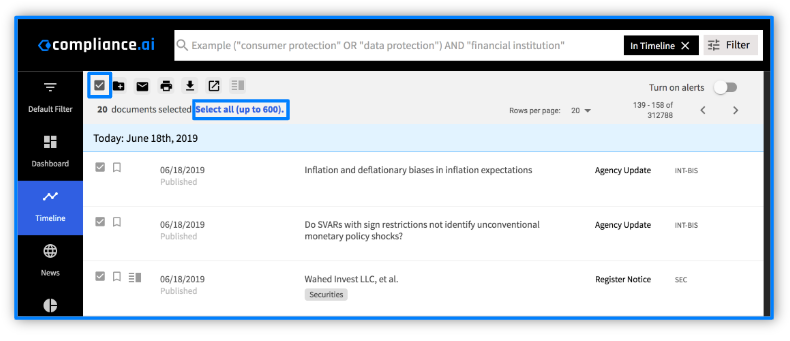 You can review the total number of selected documents that will be included in the export.
Step 3:
Next, click on the icon with the arrow pointing out, located to the right of the checkbox at the top. A window will pop up with a list of key document attributes for you to select to include in the export.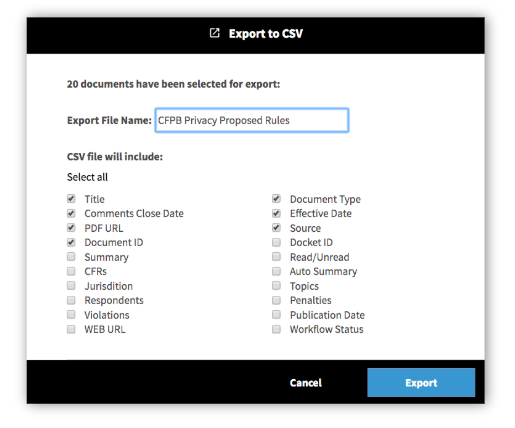 Apply a name for the downloaded file to be saved as, then hit Export.
The .csv file will be available in your web browsers downloaded files log.

Common use cases for exporting documents
Reporting


Get a high-level overview of all the attributes listed above, for all of the documents you have selected. Confirm a document's workflow status and whether or not a document has been "read".

Download fewer PDFs


Generate a list of direct links to the documents you are working on. Review documents inside the product and download fewer PDFs.
Example
Let's say that you're searching for enforcement actions and rules from the CFPB, FDIC, OCC, and FRS that mention "privacy". You're only interested in documents from June 1, 2018, to December 31, 2018.
Your search would look like this: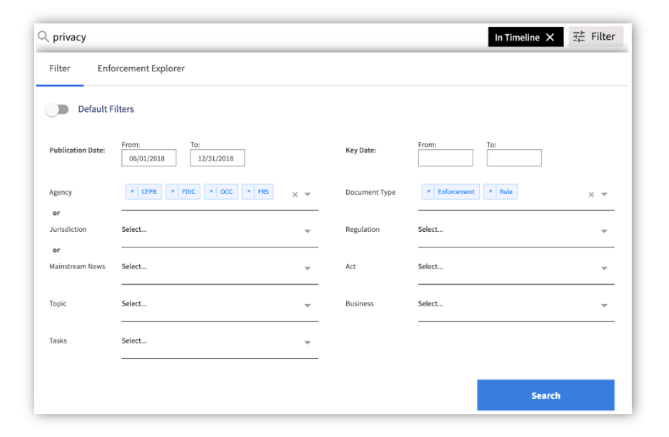 From here you would follow steps 2 & 3 to export the attributes you need from the documents you've selected:

Other Product User Guides
Login to your account