Compliance.ai Year in Review 2018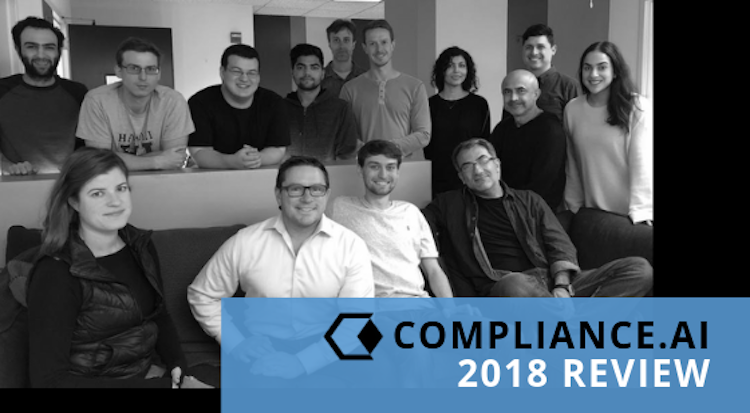 As the new year begins, I've been both reflecting on key milestones Compliance.ai achieved last year and looking ahead to where we will be going in 2019. I am proud of the progress our team made in 2018 to help modernize how compliance teams address risk.
Here are some highlights of what Compliance.ai accomplished in 2018.
Risk Management & Assessment
Last year, we re-evaluated our mission. We expanded from providing compliance teams comprehensive and personalized financial regulatory intelligence to also transforming the way highly regulated organizations address compliance risk. Our platform now automates and streamlines complex compliance activities and workflows to foster collaboration, transparency, and trust across all stakeholders.
Auto-summarization

helps users quickly assess whether a newly published document is relevant to them. We summarize lengthy regulatory documents, like proposed rules, into bullet points and paragraphs. Instead of reading 40 pages to evaluate whether this update is relevant or not,  our users can read our automatic summaries - saving precious time and resources.

Enforcement Action tracking and reporting 

enables clients to immediately view the penalties, violations, respondents, relevant regulations and topics (e.g.: AML/BSA) related to the enforcement actions. We also include interactive trend analysis information relevant to the enforcement actions, helping risk teams with their analysis and decision making, beyond compliance.

Advanced Exporting helps users to select from a comprehensive set of fields (many of which are calculated & extracted automatically by Compliance.ai from within regulatory documents) including key attributes like CFR code, key dates, workflow status, penalty amounts, violations and more, that users can include in an export to csv download, and use for reporting and resource planning purposes. We introduced the same capability through our API platform, enabling seamless programmatic integration of our curated content with 3rd party GRC and risk management platforms.
Processing & Task Management
In 2018, we focused on streamlining collaboration across compliance teams and other business stakeholders.
Part of Team Edition, Workflow Automation streamlines collaboration, creates automatic to-do lists and prioritizes and delegates tasks as soon as a relevant new document is published. Our workflow automation also keeps track of changes and progress for every task, which is useful for reporting or in case of an audit. Lastly, it can seamlessly integrate with existing GRC/IRM/DMS and risk assessment platforms. The Workflow Automation platform significantly reduces the time it takes to monitor, track, assign and manage regulatory change management tasks. (Press release)
Research & Content
On the research and content front, we made some major strides. We released the Compliance.ai Basic Edition in 2018 and it was a major success. The idea was simple: Provide users with FREE access to financial regulatory documents, with no strings attached.
Removing the paywall users traditionally see within other compliance products was very well received, the platform's usage increased threefold in less than 6 months, and thousands of users have used the solution on our platform since its release in 2018.
Additional research related updates included:
International + new jurisdictions expansion

: Compliance.ai widened its support of regulatory content and change management to include UK, EU and international jurisdictions, with Canada to follow in early 2019. (

Press release

)

Expert-in-the-loop and Contributor network

: There are now 100+ individual "RegHero" contributors! Compliance.ai worked with law students from more than 40 law schools across the nation. Contributors work with our Data Science team to improve the accuracy and results of our supervised learning model. Our Contributors enable our curation and classification to be even more relevant and accurate.

Even more personalized and focused:

We have the industry's most advanced search and filter research tool for regulatory content. Our advanced search and real-time alerts save our users hours a day when they would otherwise be manually trying to aggregate relevant regulatory content across multiple disparate sources.
In 2019...
We'll be offering cutting edge innovation and addressing new markets. Look for the following to be unveiled:
Automatic Obligation summarization: In 2019, we're taking actionable intelligence even further by automatically surfacing Obligations, Rights, Constraint and Exceptions from within regulatory documents. Ultimately, this helps our clients quickly identify what is applicable to them, and determine how such obligations map to their internal controls. Within minutes of a new regulation being published, users will be able to see the list of extracted potential obligations,  along with automatically assigned tasks to assess applicability. Automatic Obligation summarization will not only increase change management efficiency, but also help prioritize and plan the required steps, and maintain a reliable and consistent audit trail of obligation assessments over time.
Diffing: We'll soon announce a new feature we completed in 2018 that lets users clearly and easily see what has changed, from one version of a regulatory document to another. Our clients will be able to quickly identify critical updates on documents such as proposed rules (which can go through revisions before becoming final). This allows our users to focus on analyzing the impact specific changes, rather than spending time identifying the changes.
Jurisdiction analyzer

We published

a blog

in the fall of 2018 that reviewed some popular financial regulatory topics and how much they vary by state. Local, national and international restrictions vary for business and operational topics, and understanding the differences between regulations for similar products across such jurisdictions is important to our users. In the US, even as federal regulations roll back, state regulations are stepping up their regulatory and enforcement agendas, with varying restrictions. Our goal is to greatly simplify the analysis of various regulatory topics across local, national and international jurisdictions.

New partnerships

: We developed relationships with many new partners in 2018. We've been working with financial consulting firms, regulatory thought leaders, law firms, industry solution providers, and other RegTech companies, and we've identified paths to work as strategic partners. Our partners will help us expand into new jurisdictions, curate new topics and ingest premium regulatory analysis relevant to our users. In some cases, partnerships will lead to new product features and offerings from specialized solutions. In other cases, we will partner with GRC solutions so users of such solutions can directly access our curated regulatory content. Our partnership with

Mashery/TIBCO

has allowed our integration process to be seamless and instantly accessible via our Developer Platform. Look for Compliance.ai expansion into new jurisdictions and native integration with leading GRC and IRM solution providers.
We wish you a very Happy New Year. Coming soon: Look for our upcoming predictions to see what we think will happen in the industry in 2019.