How Accurate were our 2018 RegTech Predictions?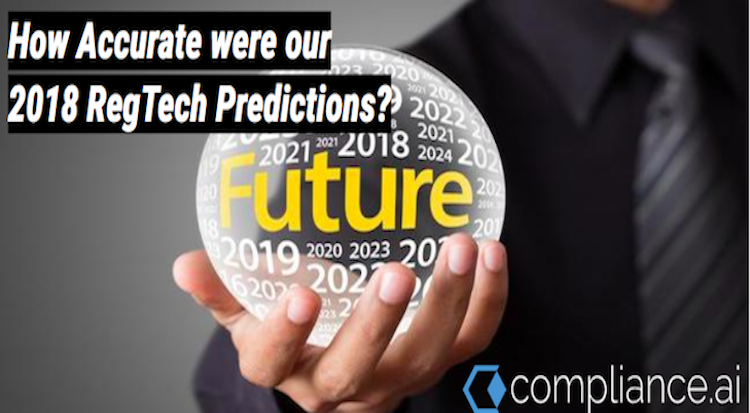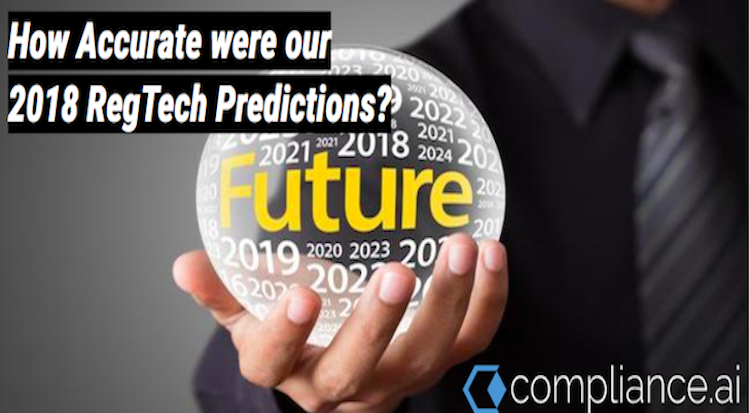 The global RegTech market continued to mature in 2018, gaining attention from investors, banks and regulatory bodies alike. The industry is expected to grow at an annual rate of 23.5%--increasing from $4.3 billion in 2018 to $12.3 billion by 2023.
In a busy year that included some unexpected events, here are our three major takeaways from 2018:
The political environment shifted after this year's midterm elections, introducing more complexity to an already challenging regulatory landscape.

The adoption of AI applications within the financial services industry increased substantially.

Innovation within the RegTech industry outpaced expectations so much that regulatory bodies have been actively looking at ways to partner with RegTech startups or facilitate innovation via Regulatory Sandboxes.
While some of this year's industry happenings--like the midterm election results--were difficult to predict, Compliance.ai's team managed to guess a few things right. Here is the round up of how accurate our 2018 predictions were.

2018 Compliance.ai Scorecard
1. We predicted a rise in compliance accountability and enforcement
Our advisor Dr. Marsha Ershagi Hames noted that there would be an increase in the review and revision of policies pertaining to misconduct, sexual harassment, and discrimination, including regulation at the statewide level.
Scorecard: MIXED

Companies spent 2018 taking a proactive approach to harassment and discrimination through comprehensive training and increased leadership accountability. Top executives have been ousted, and we've seen a surge in management across the entertainment, tech, and media industries. Most recently, Google's handling of a sexual harassment case made headlines and led to a massive employee walkout. Companies across all industries have publicly stated they are now taking a zero-tolerance policy toward sexual harassment. However, we still have yet to see whether state-level regulations will be implemented for other firms that have yet to take a stronger policy on sexual harassment claims.
2. Growth in security regulations for defending against cyber attacks.
We predicted that cybersecurity would be on the top of the regulatory agendas.
Scorecard: MIXED

Federal regulators have been sluggish to enact national cybersecurity laws, but we accurately predicted the growth of cybersecurity infrastructure on the state and local levels. At the close of 2018, at least 35 states and the jurisdictions of Washington D.C. and Puerto Rico are seriously considering more than 256 bills or resolutions addressing cybersecurity.
3. Financial services companies will begin taking advantage of blockchain solutions.
We predicted that in 2018, financial services companies would take advantage of blockchain based-solutions to address anti-money laundering perils. We thought regulations driven by KYC would be a driver of blockchain adoption.
Scorecard: MIXED

We did see some early adoption. HSBC announced they had started to use blockchain to issue a traditional letter of credit to the US government. But expect this to take off with more banks in 2019.
4. The banking industry will adopt machine learning and AI-based automation for efficiency
Scorecard: YES

This year, it is estimated 61% of companies in the financial services industries are using AI. In a speech by Governor Lael Brainard of the Federal Research Bank, he said: "..it is no surprise that many financial services firms are devoting so much money, attention and time to developing and using AI approaches." Brainerd specifically called out "potential cost efficiencies where AI approaches may be able to arrive at outcomes more cheaply with no reduction in performance" as a reason financial services are innovating with AI.
5. AI and machine learning become mainstay solutions in the enterprise
Scorecard: YES

Public cloud companies like Google are increasingly providing access to pre-trained AI models via developer-friendly application programming interfaces, and developers have even made user-friendly "drop and drag" tools for creating sophisticated AI models.
6. GRC solutions will become highly specialized
Scorecard: To be determined

We said in 2018 we would see more highly specialized and focused RegTech solutions that address and highlight very specific regulatory aspects of GRC requirements.
However, we continue to see a rise in RegTech investment. "In the first half of 2018 alone, investment in regtech fintechs was $1.37 billion — 34% higher than the $1.02 billion raised across the whole of 2017, per KPMG."
7. The political landscape and regulatory divergence will continue to create challenges in 2018
Scorecard: YES

The financial services industry is experiencing substantial political challenges at both the state and national level. While populist policies like Brexit and President Trump's trade policies and rollback of bank rules passed after the 2008 financial crisis are meant to stimulate economic activity, recent political shifts have made it unclear whether these policies will be permanent. The U.K.'s E.U. exit plan is up in the air, and the change in political power that followed November's midterm elections have raised concerns that regulatory rollbacks will be rescinded.
Check out our predictions for the financial sector in 2019!