RegTech Universe: "Modernization is no longer optional"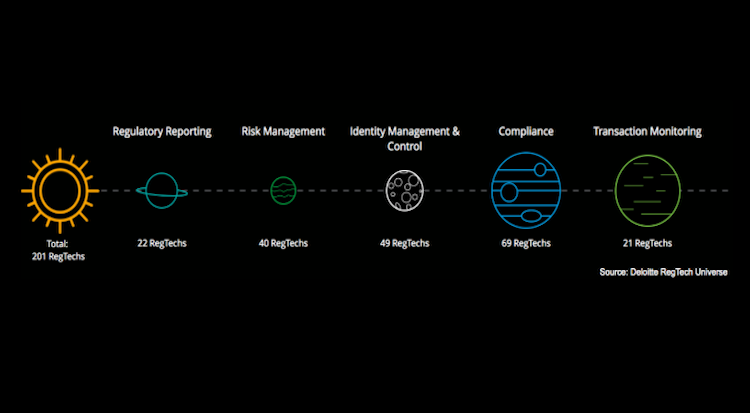 Deloitte recently published an analysis of the RegTech industry along with a directory of RegTech companies and the various solutions they are offering for regulatory compliance.  Deloitte describes RegTech as the "new Fintech" which promises to disrupt the burdensome demands of compliance within the financial services industry by applying technologically advanced solutions to streamline various aspects within the regulatory landscape. Deloitte divides the regulatory landscape into 5 main categories: Regulatory Reporting, Risk Management, Identity Management & Control, Compliance and Transaction Monitoring. Not surprisingly, Compliance.ai falls squarely in the Compliance category which is defined as, "real time monitoring and tracking of current state of compliance and upcoming regulations."
"In a survey conducted by Thomson Reuters, "Fintech, RegTech and the Role of Compliance – 2017," indicates an increase in favorable opinion of RegTech compared to last year, and a significant gain in the number of respondents that have implemented a RegTech solution, up from 17% in 2016 to 30% in 2017. Among the most widely implemented solutions were regulatory change monitoring and risk solutions."
With about 70 RegTech firms identified globally in the Compliance category, Deloitte's directory is a resource for firms looking to modernize their compliance program. In a separate post, Deloitte says that "modernization is no longer optional" and we couldn't agree more. The demands from regulators will only continue to increase and organizations need to evolve their compliance and risk management programs to keep up with the growing pace of regulatory change and reporting.
In addition to Deloitte's comprehensive report, Thomson Reuters published a white paper about how RegTech solutions are poised to respond to the demands of MiFID II, GDPR, FRTB and KYC. In the report they highlight the growth in adoption from last year, from 17% in 2016 to 30% in 2017, but they also outline several challenges. For example, RegTech companies should be prepared to integrate with existing legacy systems in place.
Needless to say, RegTech is paving the way for companies to more effectively manage growing regulatory and compliance demands. Technologies like AI and Machine Learning are being applied to simplify regulatory change management and improve understanding of regulatory documents.
Be sure to read Deloitte's  RegTech Universe post, and don't miss their cool video about the RegTech Universe.
Thomson Reuters white paper from the RegTech Summit Report.
—
Learn how Compliance.ai provides practical solutions for Compliance Professionals.