OUR SOLUTIONS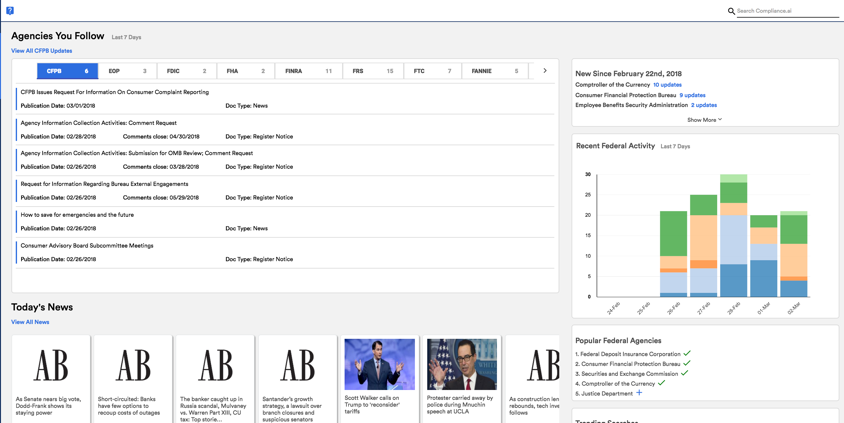 For Chief Compliance Officers and General Counsel
Chief Compliance Officers need to stay abreast of the ever-changing regulatory landscape across all agencies. Compliance.ai's Dashboard is the simplest way to stay in the know without having to manically sift through your overflowing inbox. The Dashboard offers a customizable, week-at-a-glance view of all regulatory activity focusing only on the most consequential content pertinent to your organizations regulatory requirements, reducing operational and risk uncertainties. In addition, our high-level notification emails summarize all the latest content on a consistent basis, relieving you of the need to hunt through your inbox, waste time, and potentially miss critical updates.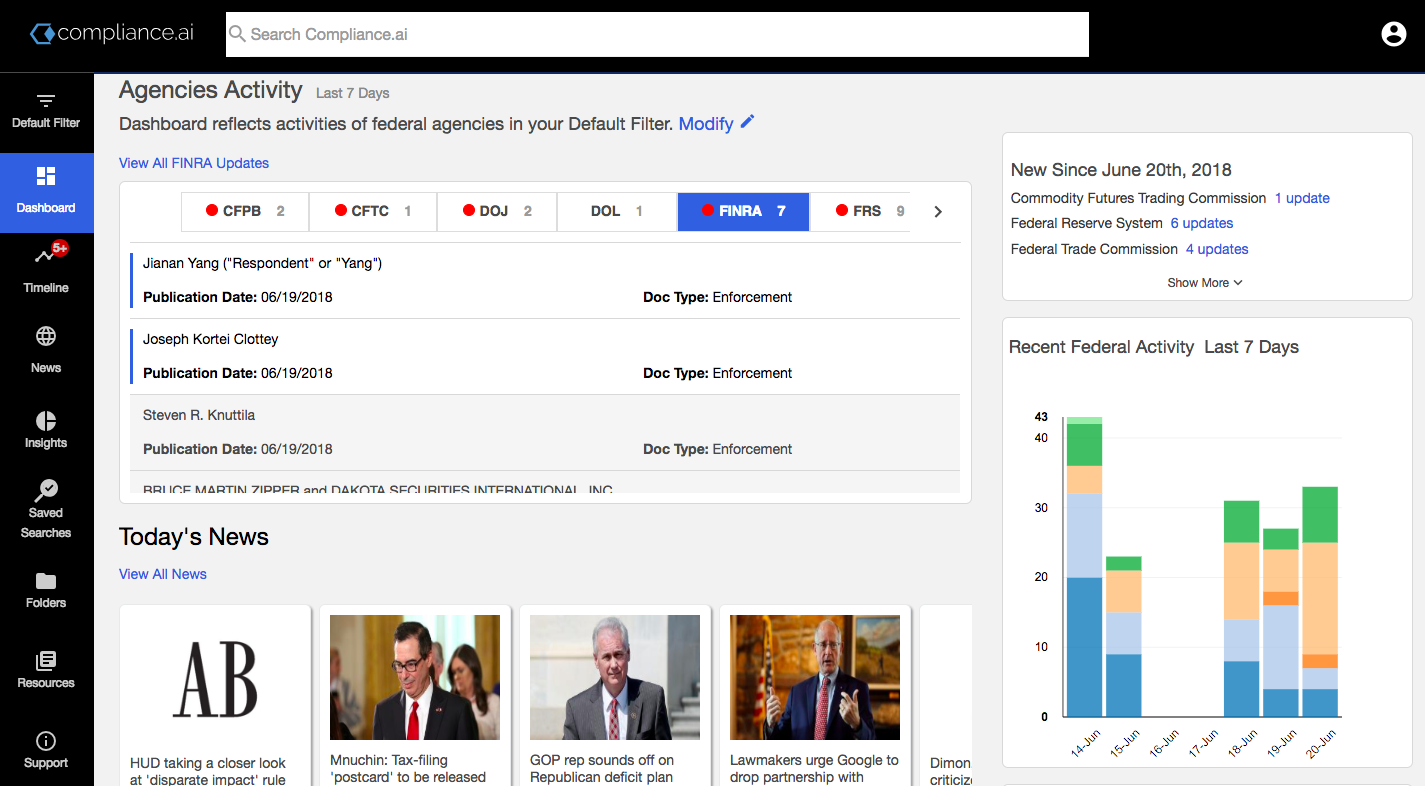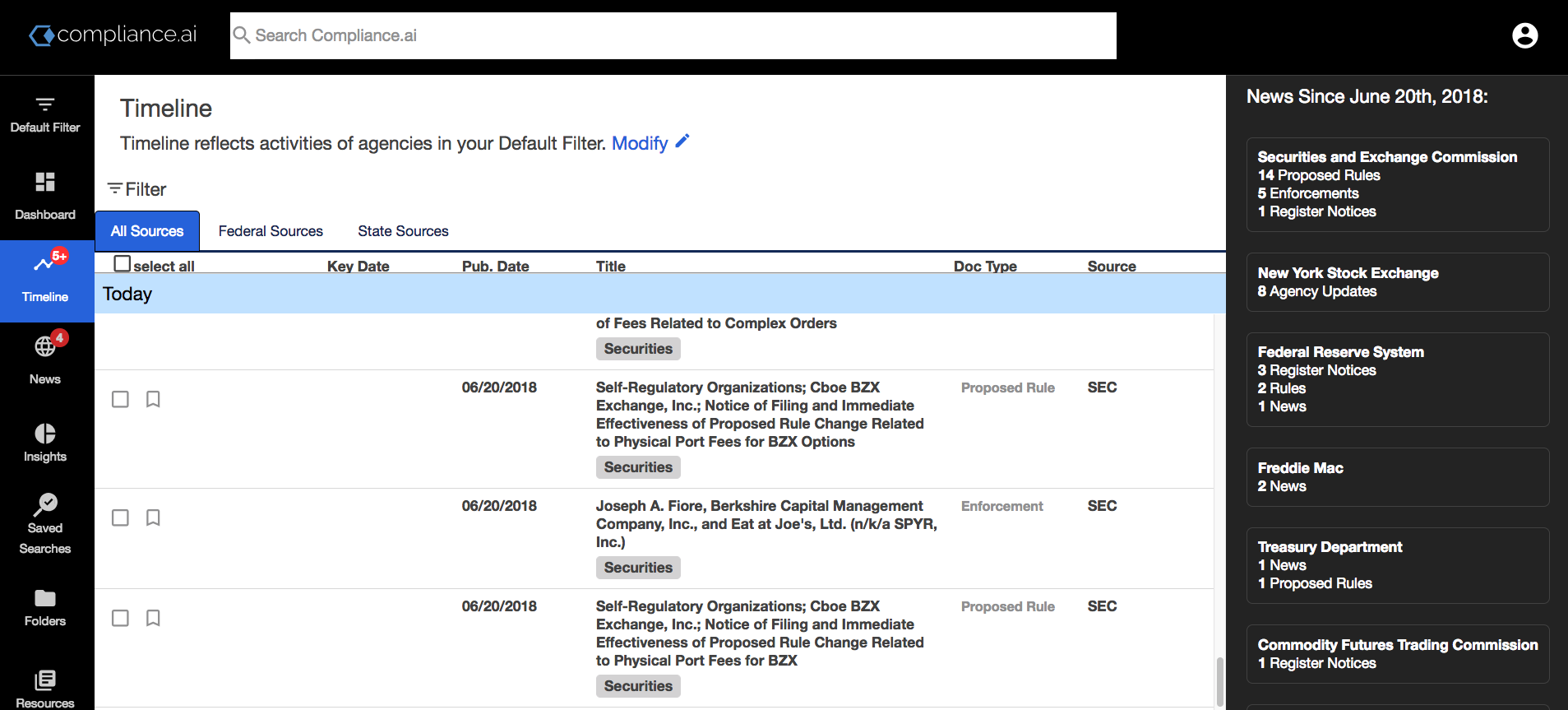 For Regulatory Change Managers
Compliance.ai removes the dull, tedious, and repetitious hunt and peck work of managing regulatory changes. Regulatory Change Managers can now allocate more time and resources to conducting internal gap analysis, identifying implementation strategies and collaborating with their team. The Compliance.ai Timeline prioritizes your daily, weekly and monthly reading list to help organize your regulatory compliance program.The Timeline allows you to evaluate the most important documents first, based on upcoming key dates.  In addition, Regulatory Change Managers will benefit from our latest Auto-Summarization capability, leveraging the intelligent summary as a starting point for prioritization and analysis, while having the ability to annotate directly on the platform. The latest workflow capabilities further simplify collaboration across stakeholders by creating automatic to-do lists based on regulatory changes. Regulatory Change Managers can take advantage of this workflow capability within their existing infrastructure to significantly lower the amount of time it takes to assign and manage tasks.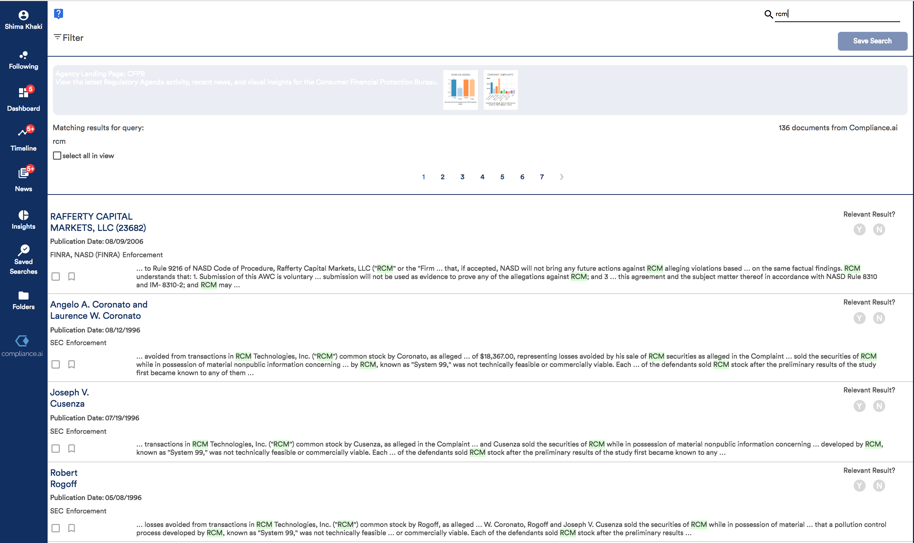 For Regulatory Change Coordinators/ Regulatory Consultants
The Compliance.ai search and filter tools for financial regulatory research streamline daily change management routines to reduce the possibility of missing important information.  Regulatory Change Coordinators will benefit from being able to track and organize all agency and news activity on one page, rather than on multiple tabs. Quickly disseminate new information to your team by simply selecting the relevant documents and exporting them to a spreadsheet with all the key attributes already extracted.  Compliance.ai's proprietary topic-classification model maps regulatory documents to key business functions like: lending, leasing, payments, bank operations and more. This significantly speeds up the coordination process of distributing tasks with your team.
Regulatory Consultants need to also maintain a knowledge of the day-to-day legal requirements for all their clients. This leaves you overwhelmed with the volume of updates and increases the likelihood of overlooking time-sensitive documents. With Compliance.ai, Regulatory Consultants can shift from reactive to proactive by taking advantage of our succinct notification alerts, week-at-a-glance dashboard, and timeline feature. These tools are designed to keep you focused and in the know. Increase your efficiency across your clients by taking advantage of our consistent and timely updates.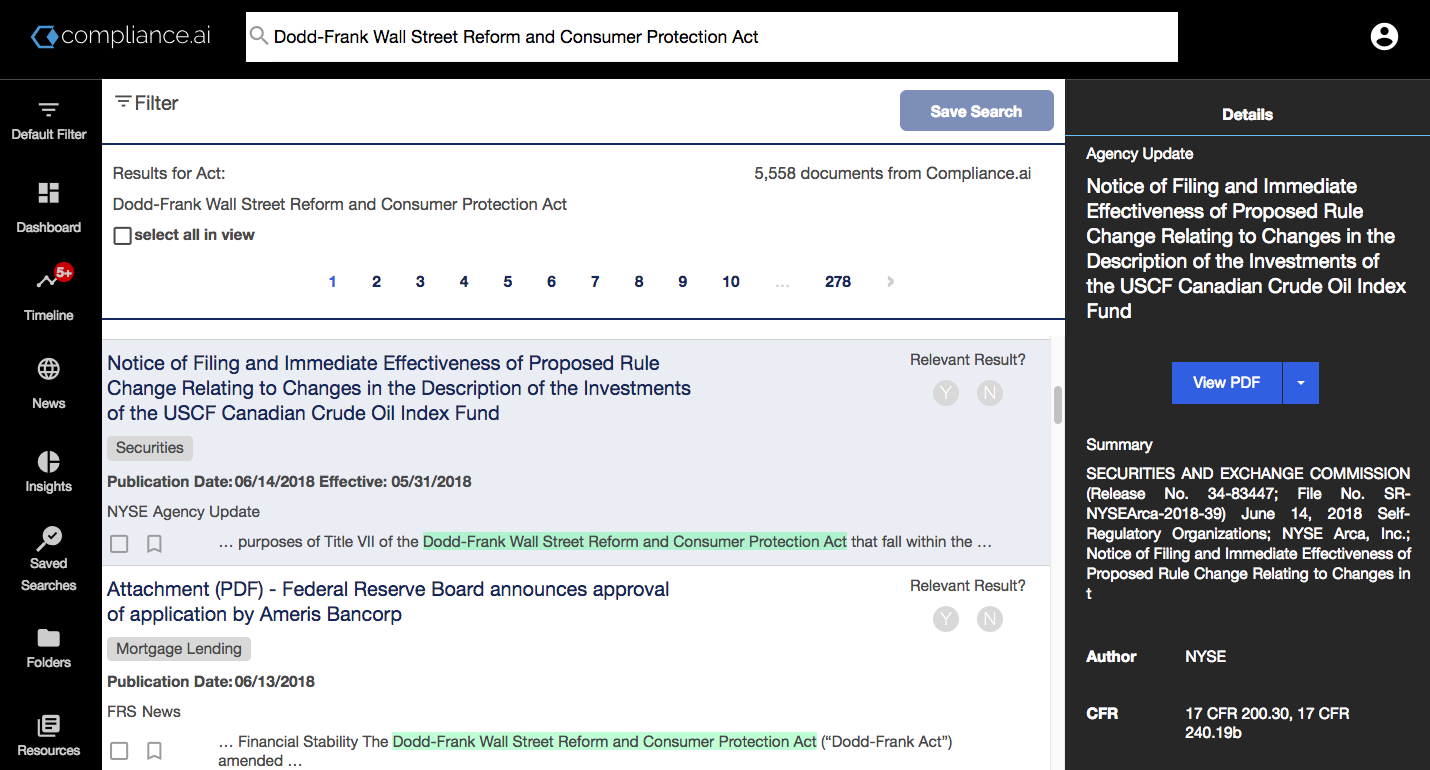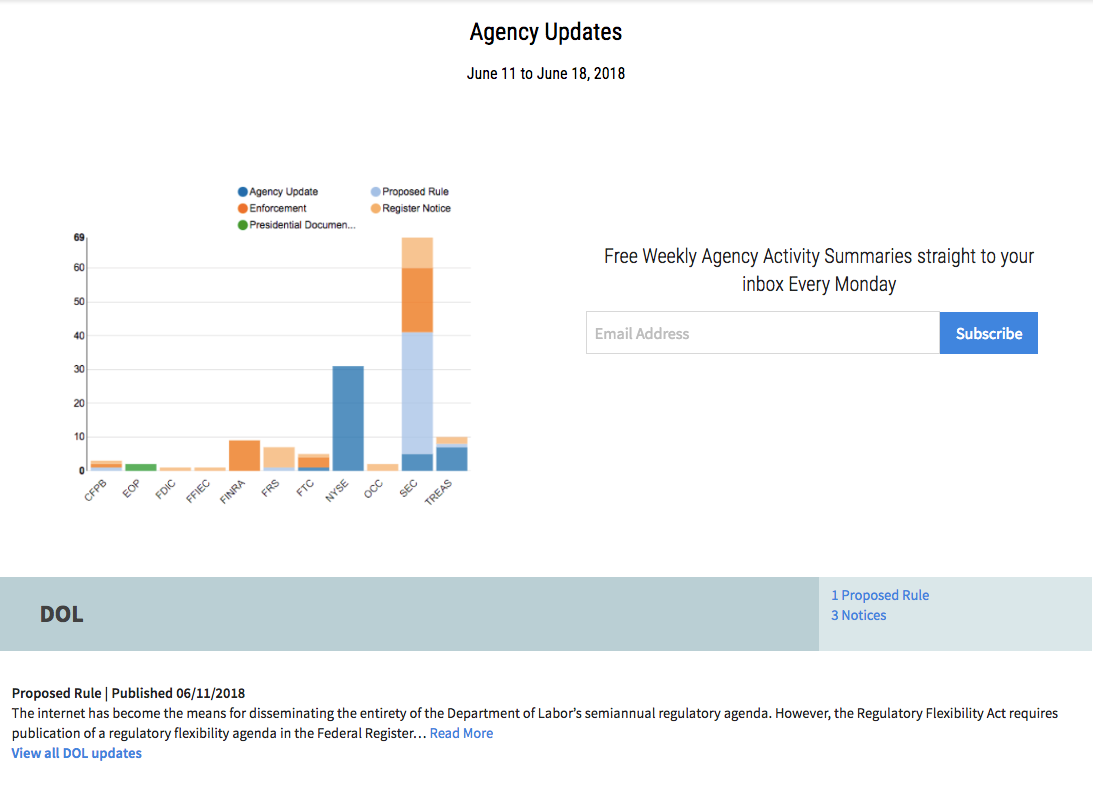 For Law Firms/ Legal Counsel
What LexisNexis provides for case law, we offer for regulatory research. Compliance.ai is the fastest way to Search, Monitor, Access, Research and Track comprehensive financial regulatory content. Use the Compliance.ai SMART platform to streamline your search, get industry insights, and receive the latest regulatory and trend notifications.Our proprietary machine learning models continuously improve to deliver you relevant content and curated insights.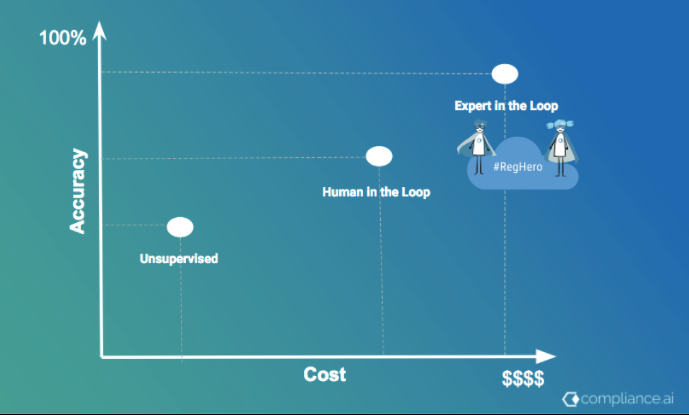 For Law Students/ Law Schools
Students and Law Schools: The Contributor Edition introduces an innovative career-oriented program for students to gain early exposure to researching and classifying regulatory documents. Students can benefit from this experience by having a competitive advantage from working with a RegTech startup while still in school. In addition, it creates a highly practical job opportunity for law students to earn extra income.
We call our Contributors "Regulatory Heroes" as they act as Experts-in-the-Loop to help classify, rank, and curate regulatory content to enhance the results of Compliance.ai's automated platform. From as little as 30 minutes a month up to 10 hours a week of commitment, Regulatory heroes can earn hourly income, Linkedin recommendations and other incentives for their contributions.