Regulatory Heroes are a network of Advisors, Compliance Professionals, Attorneys, Law Professors, and Law Students contributing to the classification and accuracy of financial regulatory content.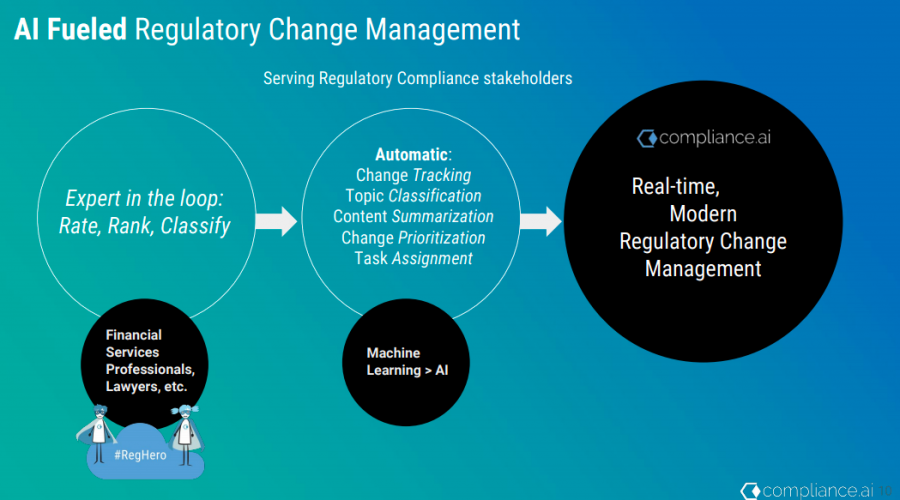 Who is a Regulatory Hero?
Interested in Financial Services Industry

Eager to gain experience with real-life regulatory content and issues
Wants exposure to the latest RegTech solution
Curious about the use of AI in the legal profession
Enjoys learning hands-on about new topic areas
Why join?
By becoming a Regulatory Hero, aspiring legal practitioners, law professors, and domain experts will gain exposure to the latest RegTech platform and benefit from deep knowledge into the most relevant issues to the financial industry. For Law students in particular, the benefits of participating include: learning first hand how to tell the difference between distinct regulatory topics and insight into the most recent regulations, proposed rules, and enforcement action trends.


February 7, 2019
The regulatory landscape around digital asset securities that was once an open-ended question is now…

February 6, 2019
Compliance.ai's CEO and Co-Founder, Kayvan Alikhani,  discusses the new opportunities that AI will bring and…
REGULATORY AGENCY UPDATES
Financial Regulatory Agency Activity Summary – all agencies, on one page!
FINANCIAL ENFORCEMENT ACTIONS
See the violation, penalty and fine – without opening the document!
WEEKLY REGULATORY DEADLINES
The most recent financial regulatory news and upcoming deadlines at a glance