Six Ways to Keep Informed on Compliance Rules and Regulations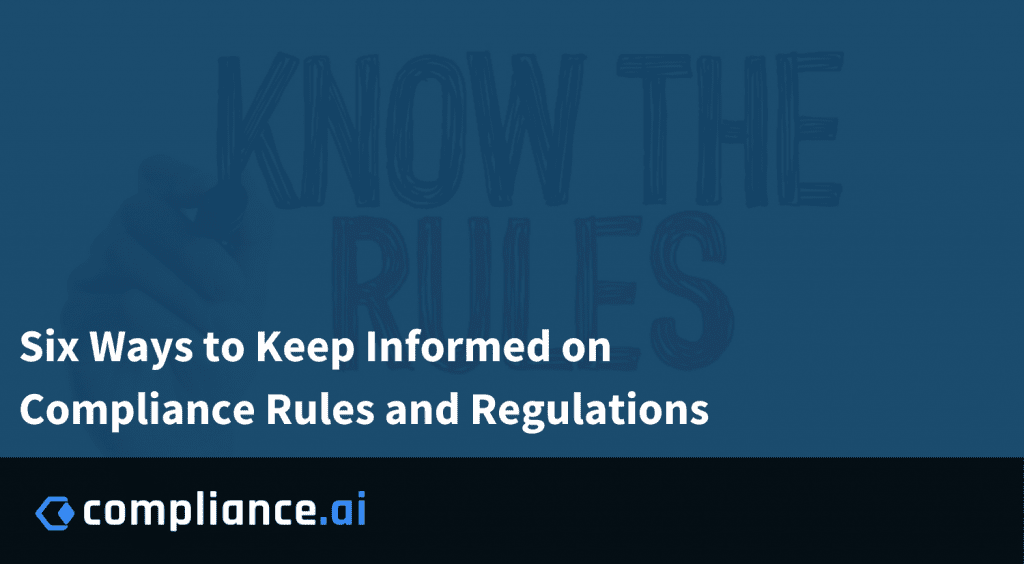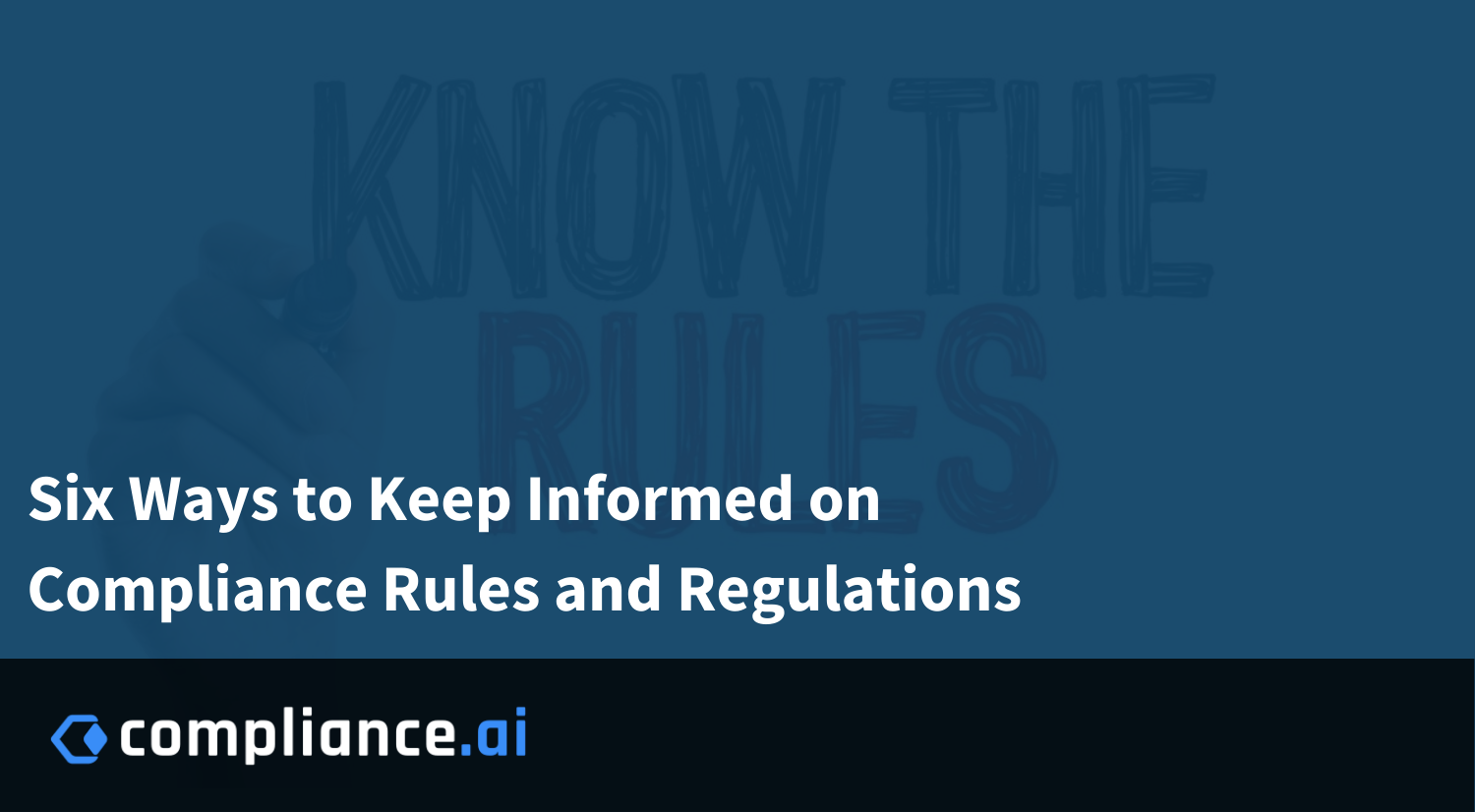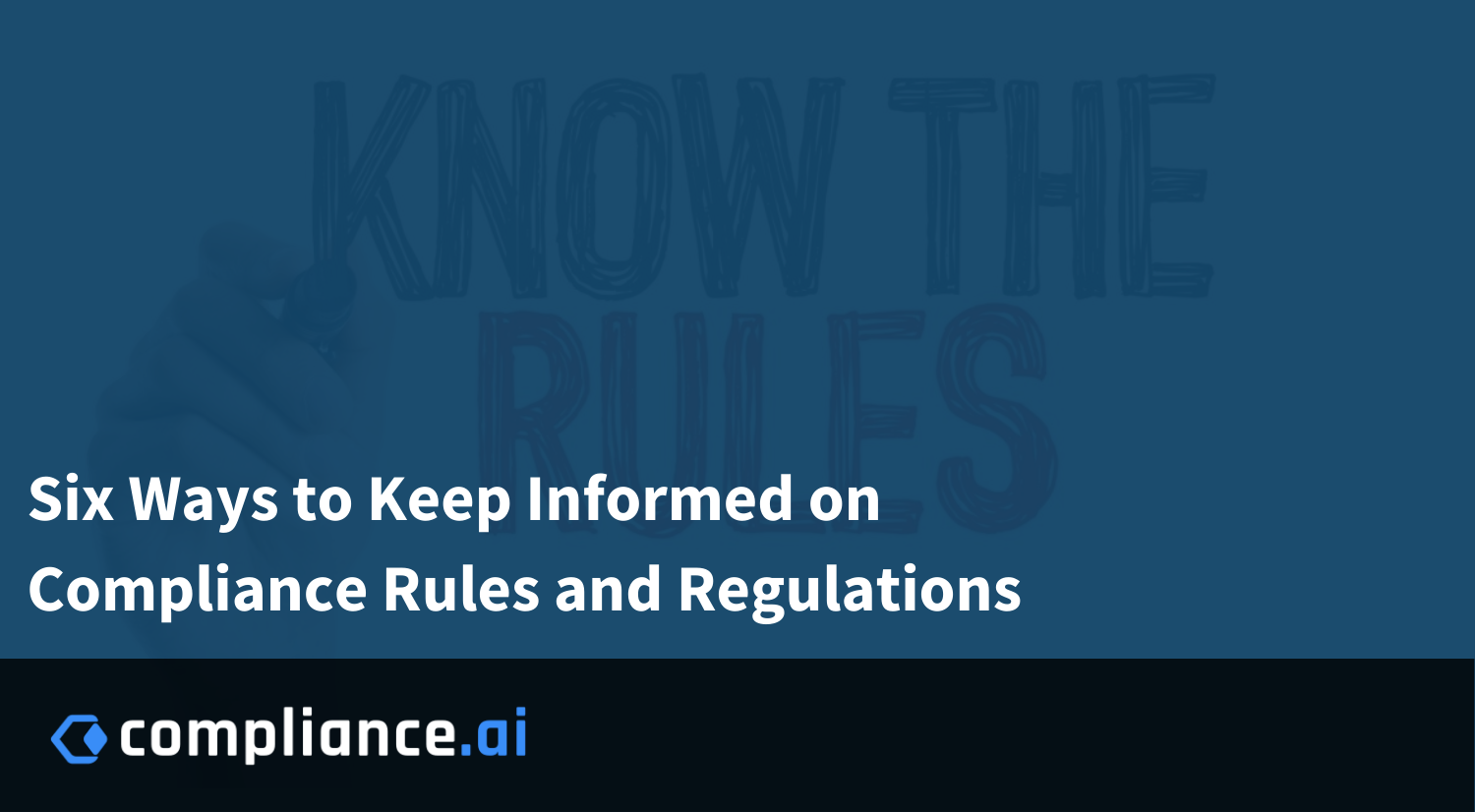 Compliance offers know that a big part of their job is to know what the future brings as regulators inundate companies with new state and federal mandates and statutes. That's a big deal when new mandates clock at several thousand regulations annually.
Getting ahead of that workload, however, is easier said than done.
Obstacles that stand in the way of staying ahead of compliance rules include lack of internal resources, little or no buy-in from top-tier company executives, and being stuck with manual-based compliance management systems, among other issues.
Perhaps that's why compliance officers know the risks of not keeping up with new rules and regulations, but somehow seem powerless to solve the problem. That's a bottom line issue, as the data clearly shows that non-compliance costs businesses about $4 million in revenue losses and that it costs (at least) twice as much than the cost of establishing proper compliance maintenance.
How can compliance officers fight through the obstacles and limitations standing in their way, and stay current with seemingly never-ending compliance regulations?
Start with these action steps:
Make check-ins a daily habit. Compliance news and regulations come at you fast, which is why making daily research a cornerstone of your regulatory information campaign.  Create Google Alerts to receive daily news updates, subscribe to industry compliance newsletters (like Compliance Week), blogs, and podcasts (The FCPA Compliance Report is a good start), and stay active on social media groups that focus on compliance and regulatory risk.
Partner with a software provider to streamline critical data. Having compliance data delivered to you on a daily basis is a smart move. Having the compliance content that matters to you is even better. That's why it's a good idea to save time and streamline your compliance information gathering process with an automated, real-time, personalized stream of the latest regulatory change management content from thousands of sources across jurisdictions, documents types, and industry publications. Plus, a compliance software data provider can also update you on any new regulatory changes instantaneously, simply by getting a text alert on your smartphone.
A good compliance software provider will also provide you, as a client, with regulatory content via a free weekly email that summarizes the most recent activity in an easy-to-read manner.
Focus on tasking and strategies. Staying on top of regulatory mandates and changes means drilling down and understanding what those regulations mean to your company. When a regulation is rolled out or adjusted, getting that news is important. The next equally important step is recognizing who in your organization is best prepared to respond to new regulations.
A good compliance officer can act as a traffic cop and steer new mandates and edicts to the individual or team with access to the best relevant data and who can establish a strategic automated workflow campaign that ensures the company will stay well in compliance on the new rule.
Hire or designate a compliance officer / partner. Leveraging the traffic cop analogy noted above, companies – even smaller ones – should tap an experienced compliance officer to handle the soup-to-notes machinations needed to stay ahead of regulatory changes. 
If you can't hire a compliance officer, partner with a third party compliance specialist who can act as your de facto compliance officer and keep your company on an automated path to full compliance every day of the year.
Be proactive and reach out overseas. If you're operating overseas as a multinational company, keep the lines of communications open with foreign locals who are plugged into their country's regulatory systems. 
Leverage a dependable foreign trade agency, establish contacts at the local level, and open up avenues of communications with foreign regulatory agencies, who want you to adhere to their compliance laws and will go out of their way to keep you informed.
Be an early adopter and prepare for change. A savvy compliance strategy lays the groundwork for accommodating new regulatory changes. That strategy should focus on the necessary investments needed to abide by new regulatory mandates, like the purchase installation and management of new systems, along with any costs for training or for hiring a third-party software compliance partner.
"The sooner you react to new changes, the better prepared your firm will be to stay in compliance," said Dr. Brent Crider, Bank Secrecy Act Officer at Synovus Bank. "The more you're plugged into what's going on with compliance mandates that impact your company, the less headaches you'll experience, and the more money you'll save by being involved with regulatory changes early on. That goes a long way in keeping your company ahead of the regulatory curve.
To learn how to save time and streamline your compliance program, request free access to Compliance.ai by scheduling a demo.