New Features Now on Compliance.ai: August 2020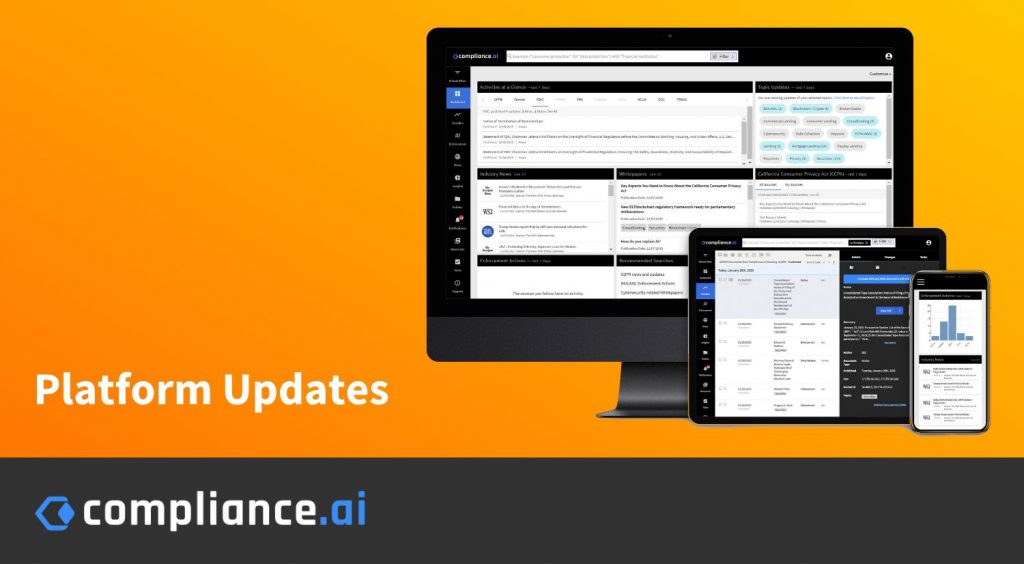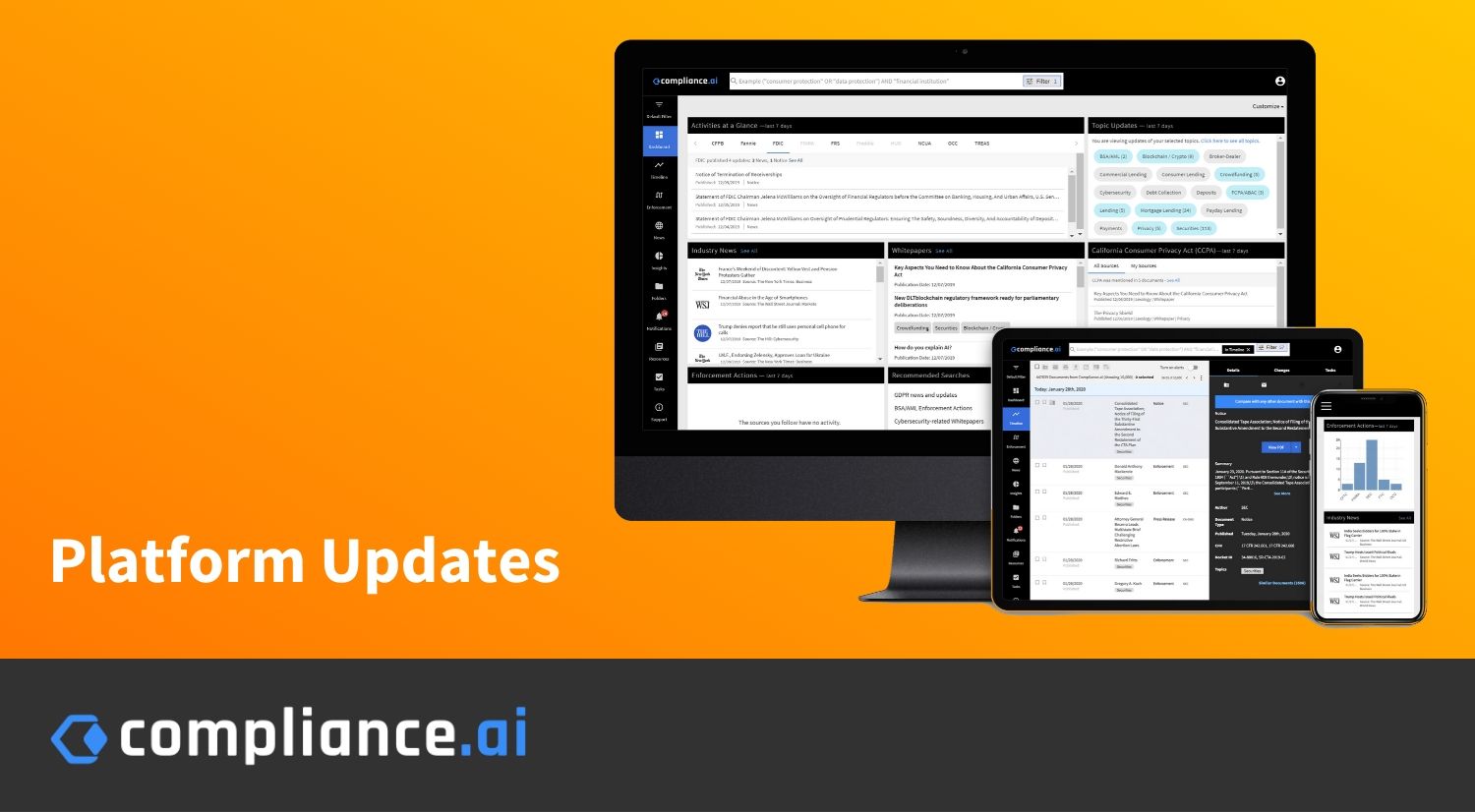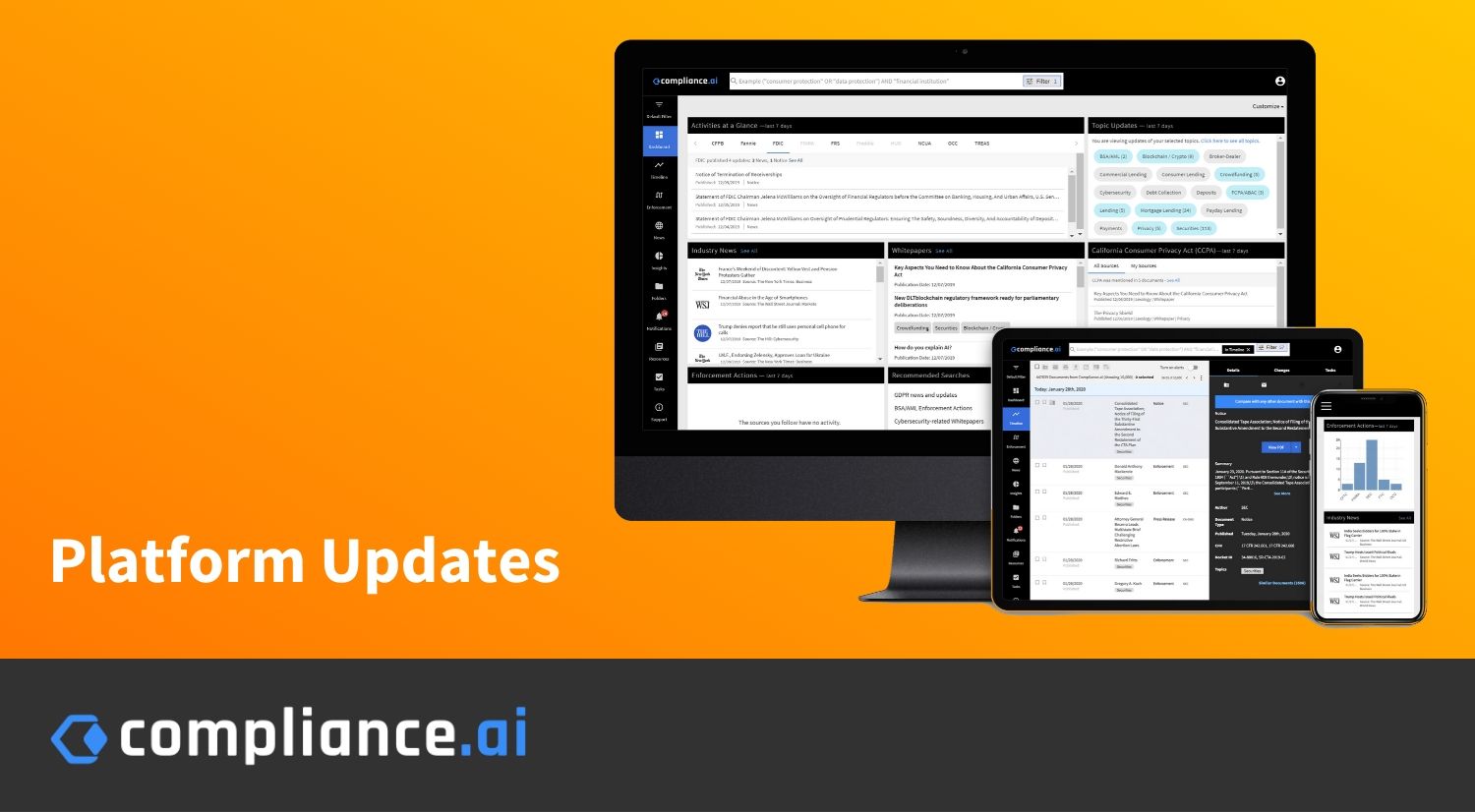 Compliance.ai helps you reduce the noise and manage your tasks more effectively. These newest enhancements to our platform help you filter by Document Type, increased control over Workflow Management  and new and expanded Content sets.
Default Filters: Document Types
Finding the content you need just got easier with our new Default Filter for Document Types. Are you interested in Enforcements, or perhaps just Rules and Proposed Rules? Now you can select specific document types of interest and automatically filter your searches and Dashboard widgets for a more fine-tuned and personalized experience.
Workflows: Enhanced Task Management
If you're a Team Edition user, there's now a more holistic way to review and manage your in-flight workflows and tasks. Our new Manage Tasks screen allows your Organization Admins to search for tasks by Workflow, Assignee, Task, Status, and Date, and, if needed, complete, incomplete, or delete tasks in bulk. This should be particularly useful if you're still in the process of fine-tuning your workflows and alerts. 
Workflows: New Features
New workflow features make it more efficient to build and maintain workflows. When creating a workflow, try using the new multi-select drop down option to reduce multiple repetitive tasks into one single step. For example, combine "Notify Compliance Team- Yes/No", "Notify Risk Team- Yes/No" and "Notify Privacy Team- Yes/No" into a single "Notify Relevant Teams" task. Then, when you're completing the task, simply select all relevant teams and have the correct dependent tasks automatically activated. We've also added hovers over task, date, and assignees in the Task right pane so you can always view longer names.
Introducing New Premium Content and Expert Connections Partner WesPay
Compliance.ai now includes content from WesPay, a payments association dedicated to building and sharing knowledge to guide its members through the payments process. This new content set includes WesPay's library of reference guides, Automated Clearing House (ACH) and Remote Deposit Capture (RDC) sample policies, toolkits, workbooks, and ACH audit guides. 
WesPay is also the newest member of the Compliance.ai Expert Connection Network. Members of the network are referenced within Compliance.ai as subject matter experts for specific types of regulatory documents.
New Content
To help you stay on top of Proposed and Final Rules published by the CFPB and SEC, we've made a change to make these documents available before their official publication in the Federal Register. You'll still receive the official versions once they are published in the Federal Register. 
Compliance.ai also continues to add more state-level insurance resources, as well as popular international, U.S. federal, and state content.
I hope you enjoyed this update from the product team.
If you're a current user, please contact support with any questions or see our product guides under Support for more information.
If you're not yet using Compliance.ai, please feel free to schedule a demo with one of our specialists to see how RegTech can transform the way you work.