Announcing: Fresh New Look and New Board Adivsor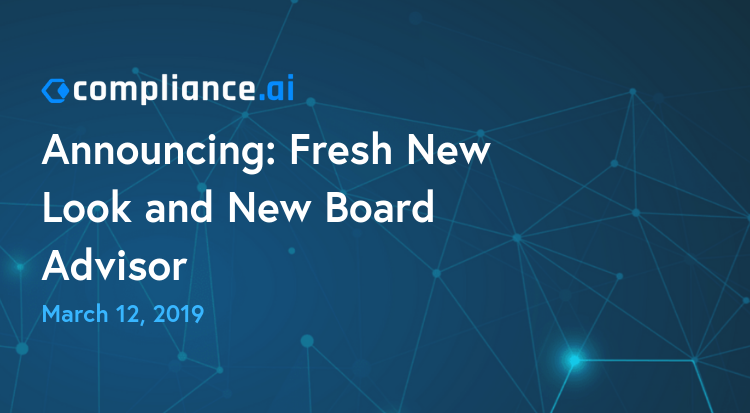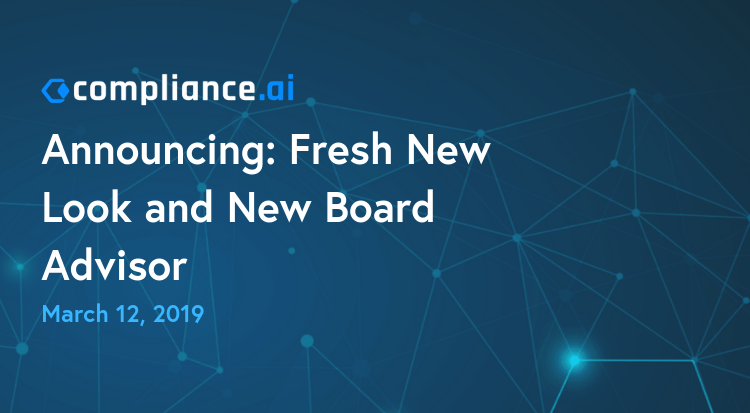 We are pleased to introduce the new Compliance.ai website and refreshed logo. The updated design represents the natural evolution and maturity of our company, product, and brand, and makes it easier than ever to determine how our solution meets your specific needs. Here are just a few things we're excited to share with you.
Monitor. Analyze. Take Action. Report.
We've summarized our solution into essential categories representing our core competencies.

We synthesized our key platform capabilities into processes that resonate with the overwhelming majority of our compliance focused customers and partners. After all, these are the typical steps required in most compliance management systems and regulatory change management programs.
Comparing Editions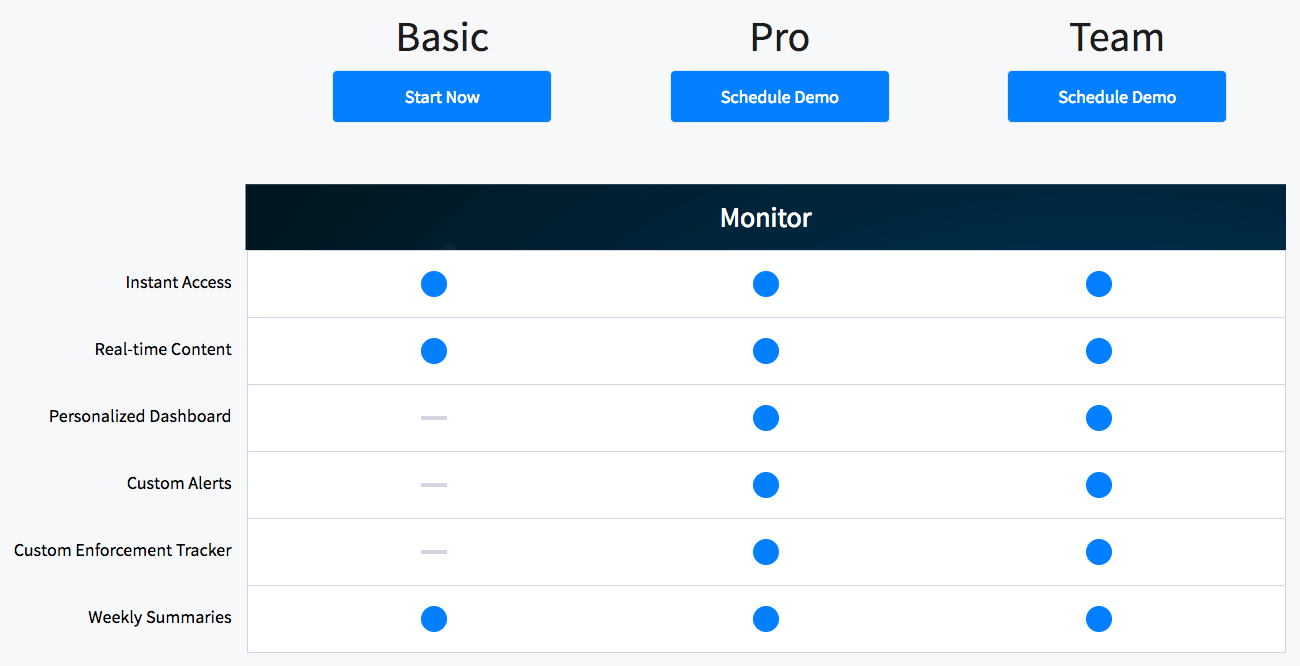 We've made it easier than ever to determine which of our Product Edition's work best for your team, based on how big your team is, and the specific features that can help you streamline your regulatory change management processes.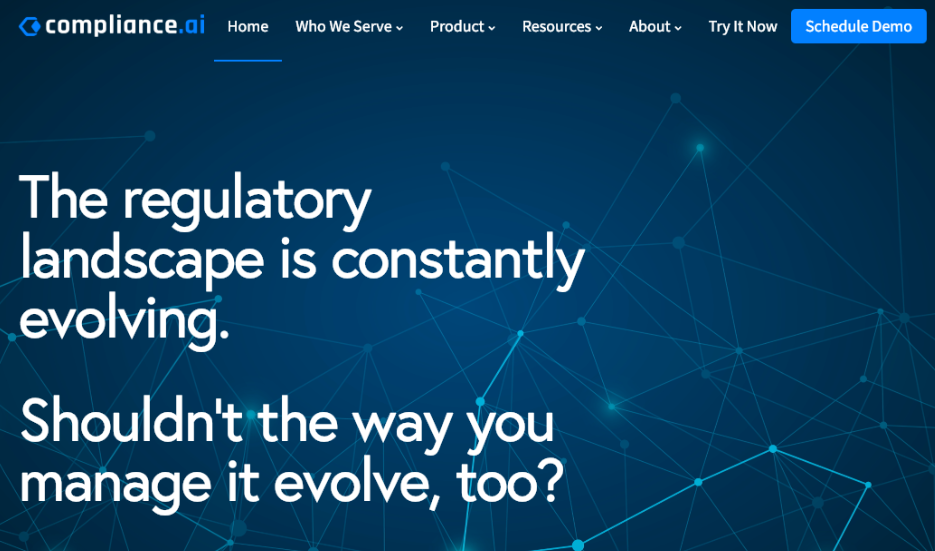 Who We Serve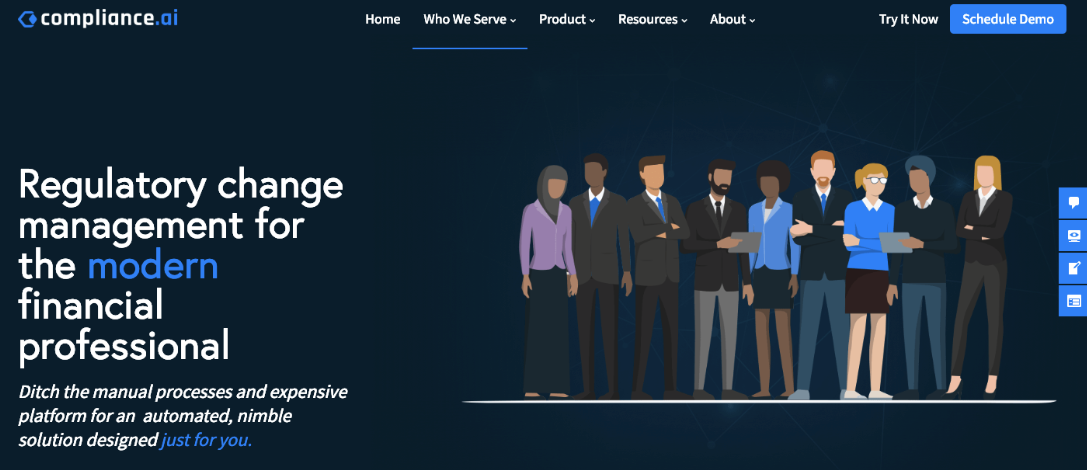 What used to be the "Solutions" page has been transformed to  "Who We Serve." This is because we want to better describe to each user how our product applies to their particular day-to-day function and pain points.  
"Who We Serve" makes it crystal clear. Compliance.ai's platform is a single solution that has carefully crafted features to address the unique needs of the various job functions on compliance, risk and financial crimes teams. We know the nuances that differentiate each job function, and this section speaks directly to your various compliance professional organizational roles: CCOs and General Counsel, the Regulatory Change Management (RCM) Team, Anti-Money Laundering Officers & Financial Crime professionals, Regulatory Consultants & Legal Advisors, Chief Risk Officers and Risk teams, and our Partners.
New Logo
Our logo has been refreshed to have a bigger and brighter presence. We've slightly updated our iconic icon, brightened up our blue and updated the font for a more modern look and feel.
Our new logo along with our overall website theme of polygonal shaped lines and dots, depicts a network and highlights how Compliance.ai simplifies complexity by connecting the dots together.
New Board Advisor: Introducing Drake Ross
Last but not least, we're excited to announce that Drake Ross has joined Compliance.ai's Board of Advisors. Drake most recently served for five years as a Compliance Examiner at the Office of the Comptroller of the Currency (OCC). Prior to the OCC, Drake worked at the FDIC as a Senior Compliance Examiner for seven years. Drake's extensive background as a Compliance expert will be invaluable as we continue to pursue our mission of transforming the way highly regulated organizations address compliance risk.
We hope you find our new website to easier to navigate and more informative than before!  Enjoy exploring!