Weekly Topic Update (Apr 1 to Apr 7)

03/28/2018
The Federal Reserve Bank of New York's frontrunner John Williams has a regulatory record similar to its current leader, suggesting continuity in the regulator's relationship with Wall Street. Williams, the Federal Reserve Bank of San Francisco president, and current New York Fed head William Dudley have both supported the restrictions on banks imposed after the 2008 bailouts, criticized executives for risk-management failures and sought to protect consumers. Read More
Source: Wall Street Journal
FINCEN | AML BSA CTF | Register Notice | 02/09/2018
FDIC | Deposits | Register Notice | 03/14/2018
CFPB | Lending | Mortgage Lending | Rule | 03/12/2018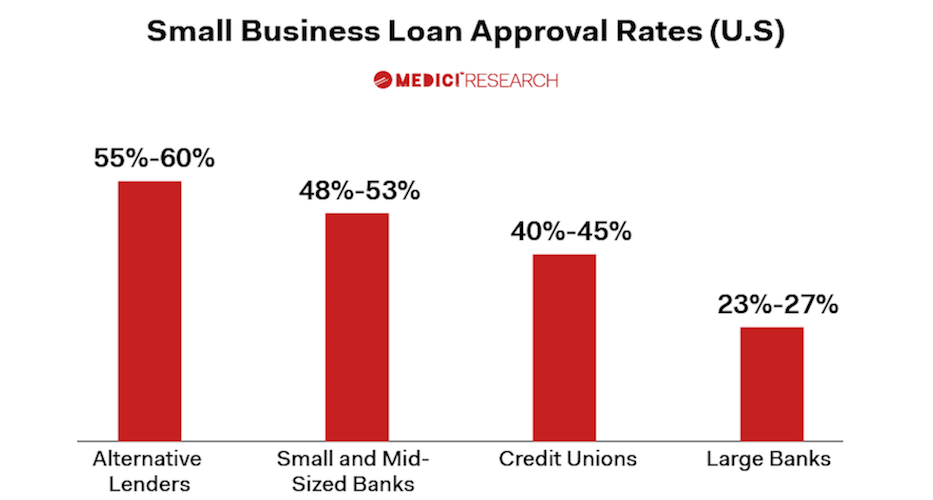 03/26/2018
Medici Research • Lending • Commercial Lending • Industry News
Data by Medici research shows online lenders have a relatively better view of a small business' creditworthiness with access to alternative data sources, and therefore have the highest approval rates (55%-60%) among all lenders including large banks and community lenders. For example, Amazon, which has a clear view of a merchant's performance since it is listed with its platform, can gain a better understanding of its risk profile. Also, most of the high-quality borrowers are approaching banks, pushing alternative lenders to take on more risk. Medici says the most popular financing products for which small businesses tend to apply include lines of credit, business loans, credit cards and SBA loans.
03/30/2018
The American Prospect • Lending • Industry News
Payday lenders have seen their prospects improve under the Trump administration, especially with the latest resolution introduced in an attempt to defang the CFPB. The move is set to eliminate a rule which would obligate lenders to confirm that people can actually afford to repay their loans, originally set to go into effect in January but put on hold by the interim head of the CFPB. Senate Democrats have written a letter to bureau acting director Mick Mulvaney to keep the rule intact.
03/28/2018
MoneyLaundering.com (sub. req.) • AML BSA CTF • Industry News
Regulators laid charges against the chief executive and two former anti-money laundering compliance officers of a New York broker-dealer for failing to file suspicious activity reports on hundreds of low-priced securities.