Announcing Premium Content
Compliance.ai has partnered with ProBank Austin to bring premium content into our RCM platform.
View relevant perspectives, advice and thought-leadership documents from ProBank Austin directly inside Compliance.ai.
Just select premium sources from the Timeline Filter.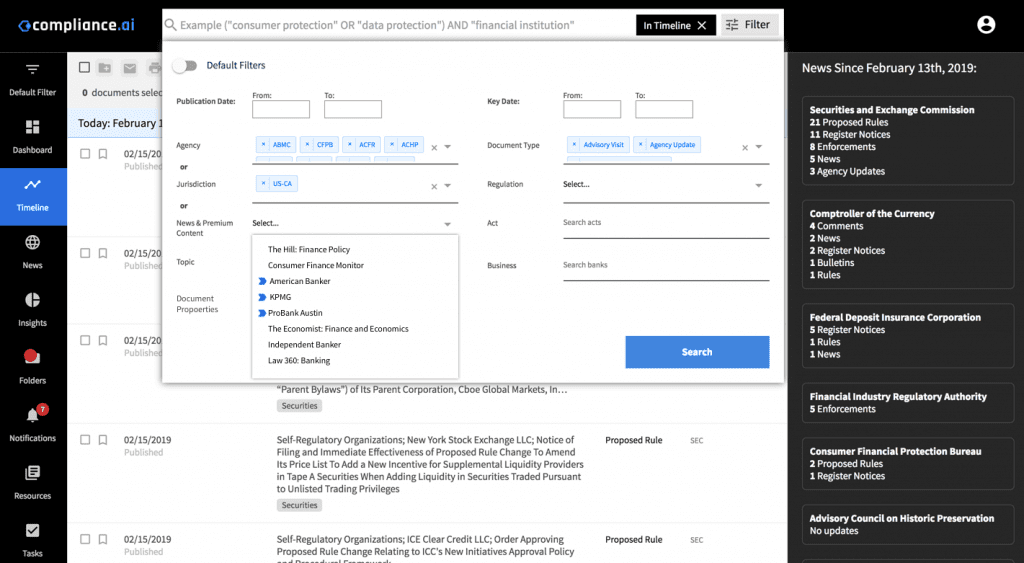 Try It Today
Learn more about Compliance.ai Premium Content, a new offering to help compliance professionals keep up with banking and financial regulations.








Compliance.ai transforms the way your team manages regulatory changes.
Designed for the financial industry
Our product was made specifically to address the problem of managing regulatory change and mitigating compliance risk.
Powered with trustworthy insights
Our transparent "expert-in-the-loop" AI- approach leverages the domain expertise of industry professionals alongside machine learning to give you insights you can trust.
Enabled by technology
Our intuitive, self-service platform allows your team to ramp up in seconds, and our expanding regulatory content is comprehensive and free.
Monitor












Custom Enforcement Tracker






Analyze















Take Action









Take Action









Report









Get Started


















Latest Regulatory Reports
Get a taste of our financial regulatory content with a
free
email report of the most recent activity, summarized for you each week.