New Features Now on Compliance.ai: July 2020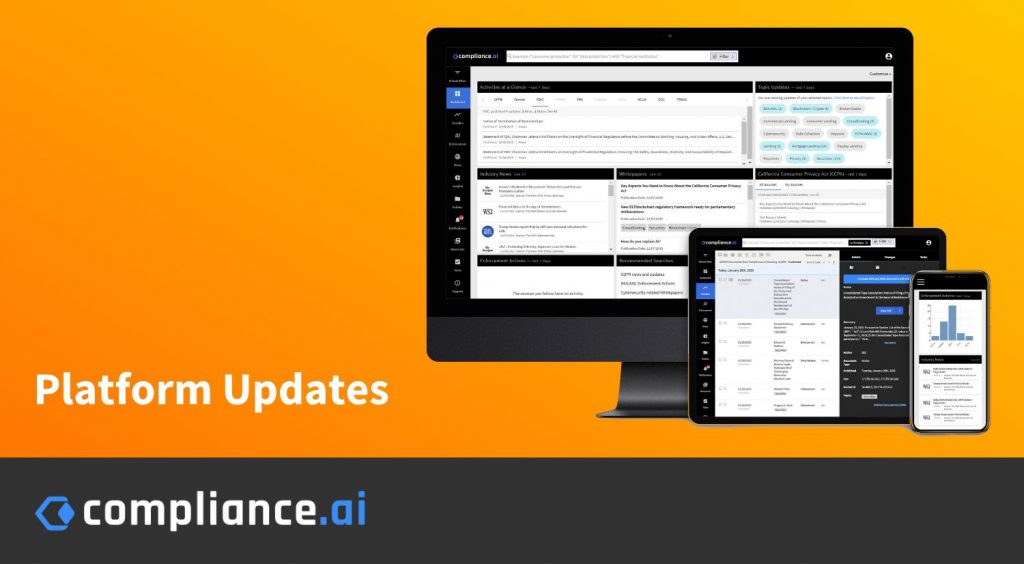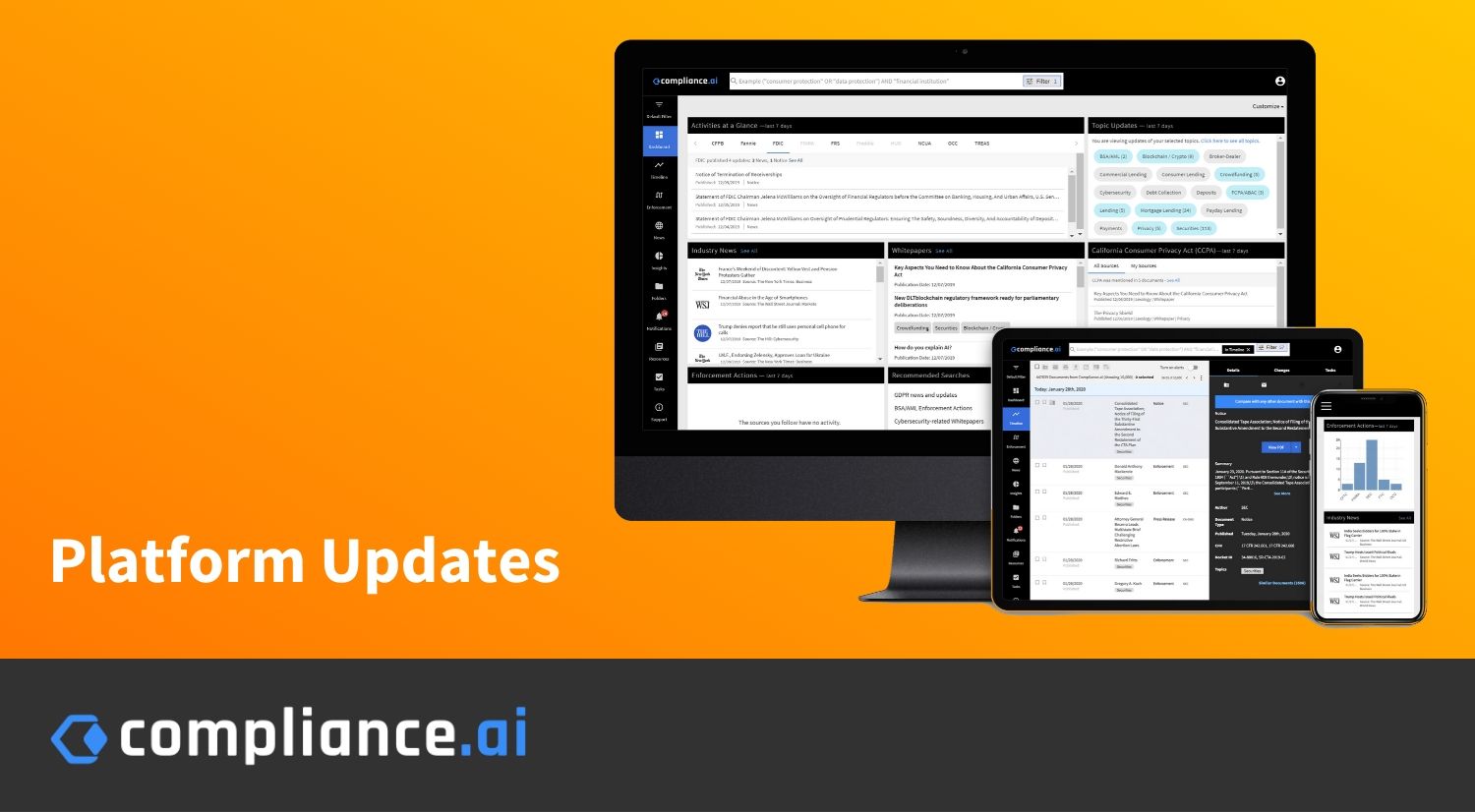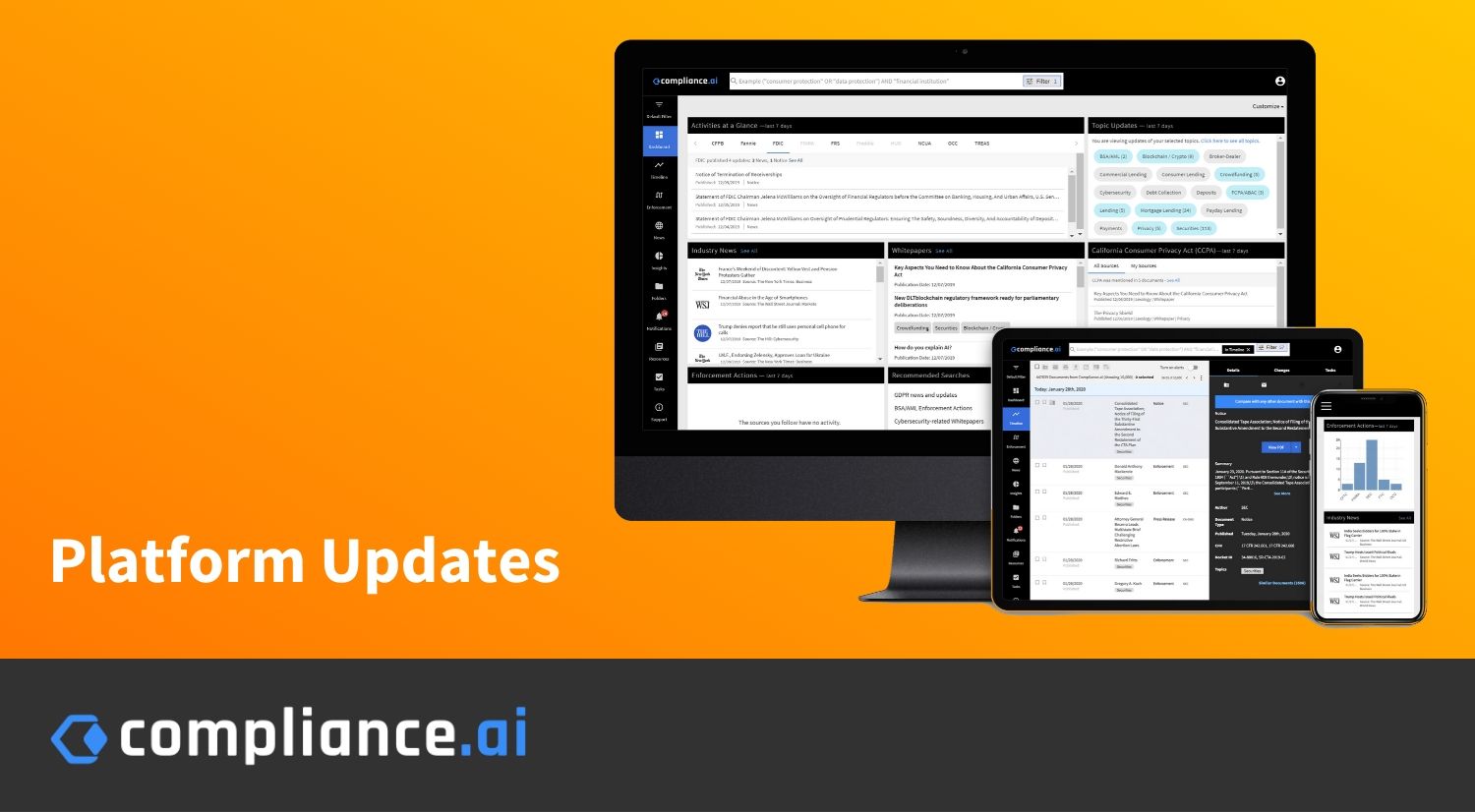 Focus on the most relevant regulatory documents by taking advantage of Compliance.ai's enhanced Dashboard, Jurisdiction Analyzer and refreshed enforcement email. Plus, check out new U.S. and International content.
Here are the features we enhanced just this month: 
Dashboard: Customizable Widgets
Why spend time searching agency websites for the information you need to stay abreast of regulatory changes? Our customizable Dashboard widgets save time and reduce clutter by delivering documents and data to you based on your preferences. Edit to choose the agencies, jurisdictions, document types, and time periods to personalize your Dashboard experience.
Jurisdiction Analyzer
No need to use 50 state surveys that are out of date before they're published. Whether you're planning to enter new jurisdictions, or simply need to compare regulations across your existing geographies, our Jurisdiction Analyzer gives you access to the up-to-date documents you need to complete your analysis. Find Jurisdiction Analyzer within Resources or Filters, choose the relevant Concept & Metric and assess regulatory documents by jurisdiction.
Updated Weekly Enforcement Report
Stay apprised of both the current status and updated trends with our enhanced Weekly Enforcement email. The email provides the familiar 7-day snapshot of enforcement actions, plus new data showing 90-day comparisons of activity for the agencies you follow. The new data will help you refocus on agencies with increasing activity, as needed. New to Compliance.ai? Subscribe to the report here. Current users, please edit your settings to begin receiving weekly reports. 
Content
Compliance.ai continues to deepen content coverage in the U.S. with CFPB and FFIEC Examination Manuals and has expanded to multiple new international jurisdictions, including Malaysia, Panama, The Bahamas, St. Kitts & Nevis, and The British Virgin Islands.
I hope you enjoyed this update from the product team.
If you're a current user, please contact support with any questions or see our product guides under Support for more information.
If you're not yet using Compliance.ai, please feel free to schedule a demo with one of our specialists to see how RegTech can transform the way you work.
Ruth McKenzie
Sr. Product Manager